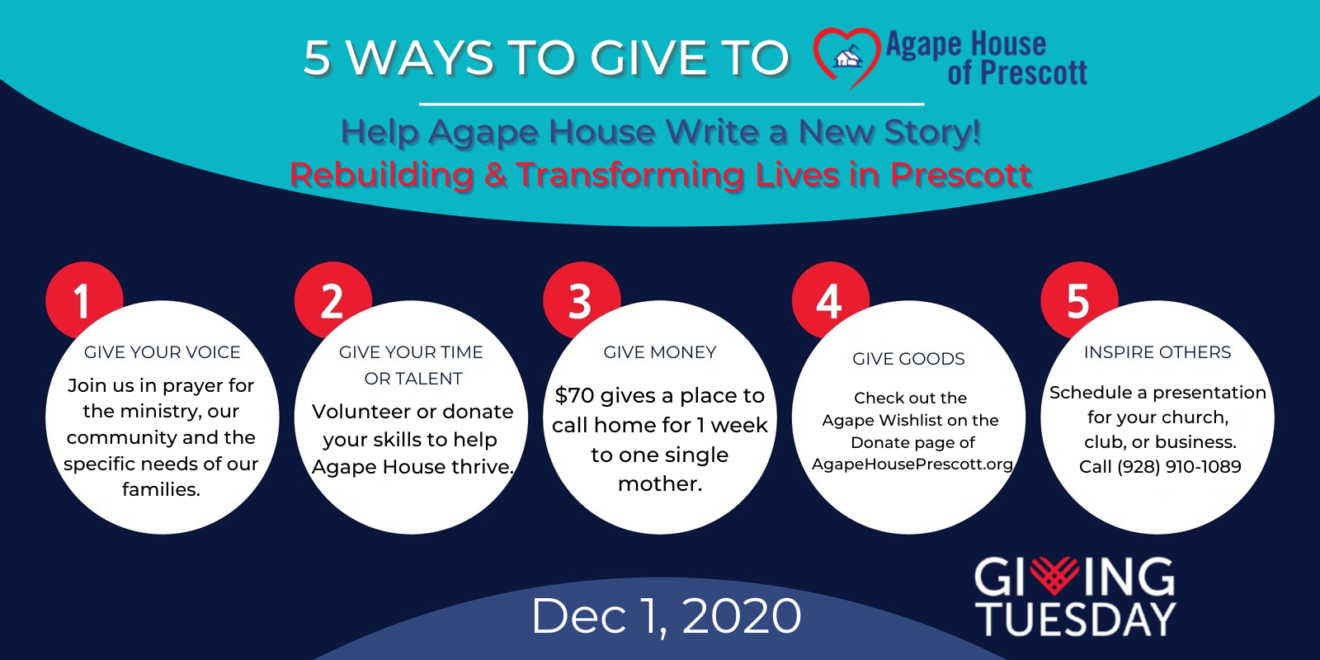 How wonderful it is that nobody need wait a single moment before starting to improve the world. Agape House has been called to rebuild and transform lives in crisis in the Greater Prescott Area since 2013; to offer hope and a future to families.


Giving Tuesday is an opportunity for people around the world to use their individual power of generosity to connect and support their communities. It's a day when everyone comes together to give back in all forms-acts of kindness, gifts of voice, time, talent or treasure. TOGETHER WE GIVE!


This Giving Tuesday, our goal is to gain 100 Weeks to Call Home! The cost to provide 1 week of housing is $70. With the generous help of 100 Donors giving a $70 suggested donation together, we can provide 100 Weeks to Call Home.


THANKFUL is an Understatement!
The Agape House team would like to thank you from the bottom of our hearts for your prayers and support. Because of you, the face of the homeless is genuinely changing. Lives that were once hopeless are now living prosperous lives, family bonds are building, warm beds for children are a reality, and hope has been poured into Prescott families. Thank you!
POINSETTIAS HAVE BEEN RESERVED
All poinsettias are accounted for, we are not taking any more orders. Please allow the spirit of giving to continue by supporting Agape House on Giving Tuesday!


HOMELESSNESS AWARENESS MONTH has raised over $40,000 for the year 2021.
Thank you to everyone who participated!
Homeless Awareness Month Was a Success!
The Prescott and Prescott Valley community rallied around our goal to bring attention to families who find themselves without a home - and the results were terrific! You have made a significant impact through your donations!


Thank you for Becoming a Part of the Solution- take a sneak peak into an apartment God has blessed the newest family with!
Agape House Giving Tree at Goodwin Medical Supply
As Christmas gets closer, stop by and visit Michelle and the Goodwin team and take the name of an Agape House individual to bless them with a gift this Christmas season!


Follow Us On Facebook