THREE Ways to Give the Most IMPACT for the Families of Agape House.
GIVE YOUR VOICE.

Pray for the Agape House ministry, the workers and volunteers, the needs of the families we serve, and our community,
GIVE A DONATION.

Give HOPE and EMPOWERMENT to those taking the first fresh-start steps to change their lives.
GIVE YOUR TIME.

Serve to volunteer your talents & skills to help families thrive.
Best of all, GIVE a chance to be TRANSFORMED through God's love!
TOGETHER WE CAN DO EXTRAORDINARY THINGS!
Help Write a New Story on Giving Tuesday.
Giving Tuesday Challenge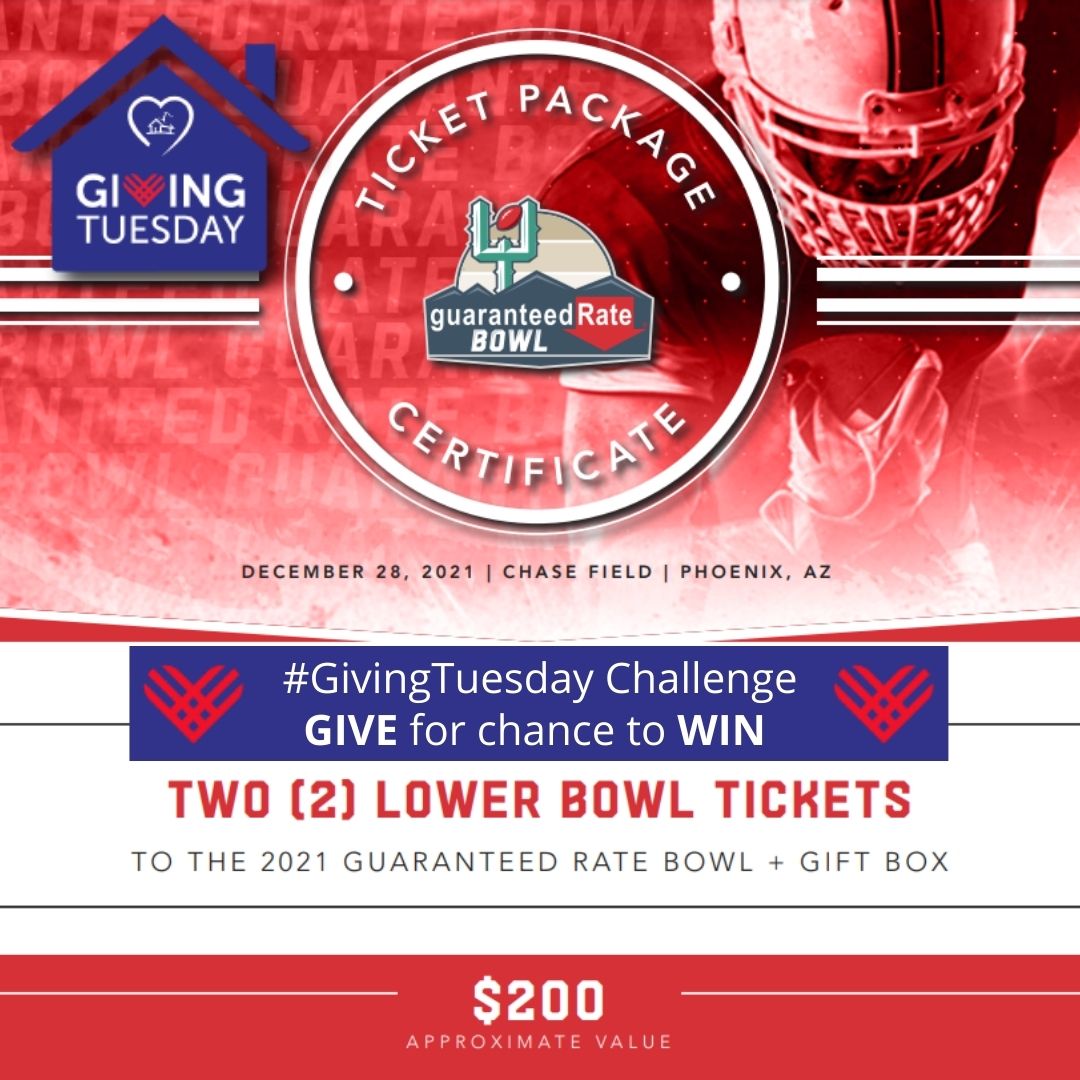 SPECIAL UPDATE

Thanks to a generous donor, we have

TWO tickets to the 2021 Guaranteed Rate Bowl

to use as our Giving Tuesday Challenge!

Choose a Gift amount and donate to enter

the Drawing for the HIGHLY anticipated College Bowl Season's ONLY matchup between the Big 12 and Big Ten Conferences. DEC 28 in Phoenix at Chase Field


#GivingTuesday — is dedicated to giving back to causes that significantly impact our community.

During this season of HOPE, seize the opportunity to IMPACT the Families

we serve by supporting the Agape House of Prescott mission: To Keep Families Together. See Agape House – Giving Tuesday info here

https://bit.ly/GT_AgapeHouse


The Winner Will Be Announced WED, DEC 1
Two Lower Level Tickets + Gift Box = $200 Value
Give a gift by midnight on Tuesday, Nov. 30, to be entered for the Drawing.
TOGETHER WE GIVE…Transformed Lives!