The Agape House team loves to get the news out to the community on how they are rebuilding and transforming homeless families' lives.  Becky, the Administrative Director for the Agape House, is blessed to reach into the community through radio interviews.
Key points Becky touches on during her interviews:
As of last semester, there were 110 homeless students (as stated by the homeless liaisons from the Prescott & Humboldt Unified School Districts) in the Prescott & Prescott Valley area. At Agape House of Prescott, we feel compelled to serve the least of these because we find that these families have become overcomers.
John 16:33 states; "I have told you these things so that in me you may have peace. In this world you will have trouble, but take heart! I have overcome the world."
II Corinthians states; Therefore, if anyone is in Christ, the new creation has come; the old has gone the new is here! II Corinthians 5:17
I John 5:4 states; "For everyone born of God overcomes the world. This is the victory that has overcome the world, even our faith." I John 5:4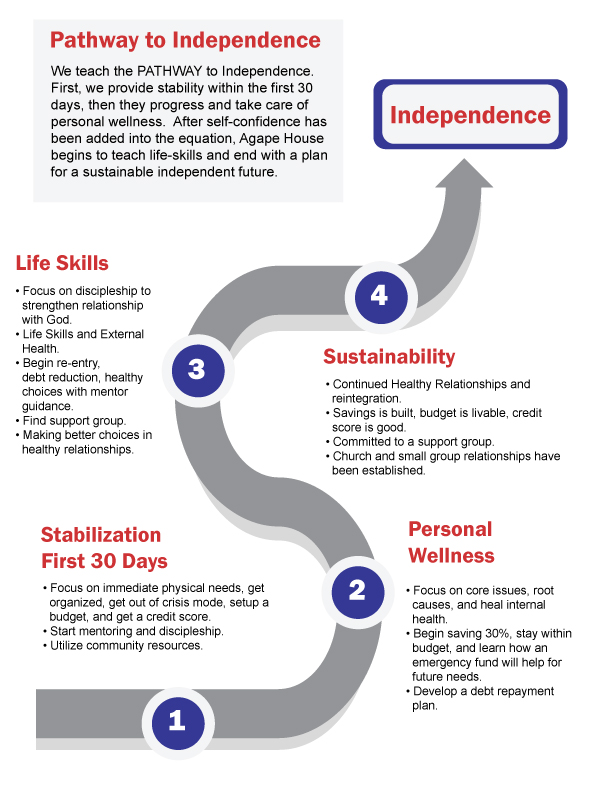 Agape House of Prescott serves homeless families in crisis. We provide discipleship, mentoring, life skills training, & interim housing. The PATHWAY TO INDEPENDENCE is a four-phase program that leads our families to an independent & self-sufficient lifestyle.
30 Days of Stability – allowing families to trade chaos for calm.
Personal Wellness- mental & emotional stability
Life Skills Training- life skills 101 including; budgeting, job skills, parenting, relationships, organizational & time management
Sustainability- reliable housing, employment, transportation, childcare, & livable/manageable budget
The complex of Agape House is a small nine-unit apartment building, which we currently are seeking nine corporate, church, & grant sponsors. The call to action is this: PRAY, GIVE, SERVE.
Pray for our families
Give a one time or monthly pledge
Serve on one of our volunteer teams
Together, we can make a significant difference in the Prescott area- because all children need a bed to sleep in and roof. By providing the simple basics of a bed, a roof, this beautiful community offers hope. Thank you for making a difference.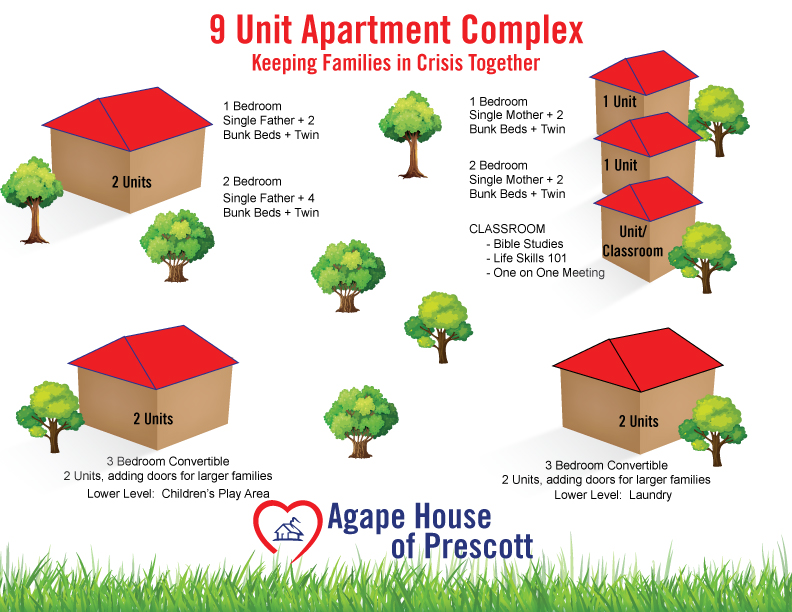 ---
Recent Agape House Radio Interviews