October 27, 2015
PRESCOTT – They might go for a hike in the Granite Dells, bake chocolate chip cookies, attend an outside musical concert at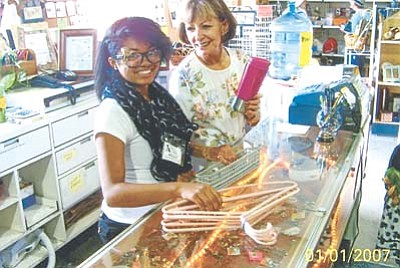 the courthouse plaza or maybe just throw a baseball back-and-forth in the backyard.
Yavapai Big Brothers Big Sisters are adults, and sometimes families, willing to spend a few hours each week with a child who needs a little extra nurture. He or she might live in a single-parent household with other siblings or live alone with grandparents and have limited access to after school activities. Research suggests these one-on-one, professionally-supported mentoring relationships can positively impact a child for a lifetime; some "littles" grow up to become "bigs."
The annual cost for each match is $1,200, and the non-profit organization now has some 430 matches with 200 children on a waiting list.
So how does this organization raise the money it needs to expand its reach?
The new Chief Executive Officer Christine Gray Clouse said this state offers people a unique chance to support their favorite charities through a dollar-for-dollar charitable giving tax credit program – $200 an individual and $400 for a couple. The credit must be donated by Dec. 31.
Her organization's goal is to raise $130,000, or about 10 percent of the charity's annual budget, through the program. Last year, the organization netted about $100,000 in tax credit donations, she said.
In addition, Clouse said their organization has an anonymous donor who has pledged to match increases above the credit: if a couple donates $600, $400 in a credit and a $200 straight donation the benefactor will match that additional $200, she said.
"Anybody who pays Arizona taxes can do this," Clouse said of the program that is simple, yet somewhat misunderstood, as to date only about 10 percent of all state taxpayers take advantage of the credit.
In this area, Clouse said there are about 30 non-profit organizations eligible to benefit from this program that requires donors to write the checks before the end of the calendar year, but they get a same-amount "credit" on their tax return. There are about 30 organizations in Yavapai County.
Similar credits are also eligible for the school of a donor's choice and for veteran services.
One fellow charitable organization, the West Yavapai Guidance Clinic, is also seeking to raise about $30,000 from the tax credit program this year. Clinic Chief Development and Communication Officer Laura Norman said any tax credit dollars will be used to support the opening of a new crisis triage center in Prescott Valley.
"This is a unique opportunity for people in Arizona to designate their tax dollars toward charities they love," Norman said.
The value of the program recently generated a proclamation from Prescott Valley Mayor Harvey Skoog. In November, Prescott Valley will have fliers containing the proclamation that highlights how the program works. The proclamation also notes the most up-to-date legislative changes in the law: taxpayers do not need to itemize to be able to participate and employers are allowed to offer employees an option of donations to a qualified charity from their state withholding tax so there is no reduction in take home pay.
YBBBS' marketing campaign offers this example: a single individual slated to pay $3,000 in state tax. They donate $200 as a tax credit. Their tax payment then is just $2,800. A couple with a $5000 tax bill and $400 tax credit pays just $4,600.
Clouse said that differs from a tax deduction as the credit is subtracted from the actual tax due; a deduction affects the income on which taxes are based. In some cases, a tax refund will result from the tax credit donation, she said.
With the holidays approaching, Clouse said she recognizes that people may feel financially strapped. So if people are interested, she suggests budgeting the amount now so the payment is not so onerous.
Again, Clouse said, this tax credit program allows people to invest their tax dollars the way they wish rather than as the state might choose.
"You're paying the tax, regardless," Clouse said.
Clouse has high hopes this "pay it forward" educational campaign dramatically increases the number of taxpayers who want to help out their local charities but never thought they could afford to do so.
"Everybody can be a philanthropist," Clouse concluded.