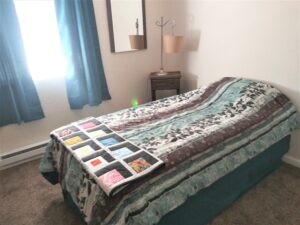 When the economic picture around you changes, you have limited living options, no family, no support; life can spiral into a hopeless situation.
After years of living in the same apartment, living paycheck to paycheck, diligently paying rent on time, and caring for his teenage daughter, life changed to despair and uncertainty for a single father when the economy changed.
Agape House recently gave hope and a home to a single father and his teenage daughter. The father and his daughter had lived in the same apartment for over 10 years. They had stability. They enjoyed safety and routines. But then their rent doubled, and despair, hopelessness, and uncertainty prevailed.
The father and daughter had to select which belongings they could transport in their car and left behind their apartment of 10 years. The two were without options and began living on the streets on cardboard boxes.
The single father felt hopeless. This is why Jim Flower, the Director of Agape House of Prescott, loves to say 'Agape House is in the business of giving hope.' Agape House stepped in, and through the love of Christ, gave this single father and daughter hope.
On move-in day, the Agape House team helped carry in a suitcase, two garbage bags, and the young lady's bedroll. "She likes to sleep on that sometimes," the father said, mustering up whatever courage or sort of pride he could when he referred to the flimsy styrofoam bedroll.
The daughter had a chance again.
Because of Agape House, the daughter moved into a safe environment. She opened the fridge and was excited that it was already full of food. She was equally delighted to do laundry without quarters.
Move-in day was the day before this young woman's birthday. Literally and truthfully, could you ask for a better birthday gift? She traded in a styrofoam bedroll for a twin bed with a handmade blanket across the top.
Move-in was an exhilarating week for the Agape House team. The father and daughter were the first family to move into the newly purchased Agape House apartments!
The community stepped up and donated furniture, washer and dryer, and household goods. Without the community help and donations, Agape House wouldn't be in the position to accept as many families as we do.
As the Dad walked around their new home, he kept repeating, "God Bless you, thank you so much." The daughter was happy that "they were safe now."
When we left the new apartment, the father had a beautiful twinkle in his eyes with a huge smile. Before saying goodbye, both said, "God Bless you and Agape House for your kindness." What a beautiful blessing they are.
What is ahead for the family? The Agape House team will now help them find stability. They will get legal paperwork in order, address medical issues, get them in touch with community resources, and help them begin living individually with a life of independence.
It is so inspiring to see lives changed, one family at a time.