HOMELESS SERVICES
IN PRESCOTT
Thank you to our over 500 Individuals and families, over 35 businesses, and 13 Churches who support Agape House!
Become a Corporate or Church Sponsor
Your Support Empowers Lives!
NEED HELP?
Do You or Someone You Know Need Help Today?
Agape House of Prescott
Changing Lives of Families in Economic Crisis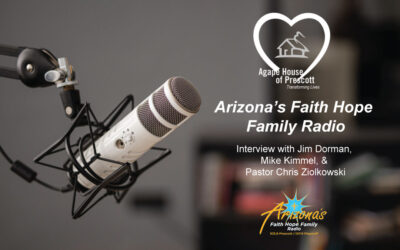 Agape House Director Mike Kimmel, and the Facilities Director for Agape House, Pastor Chris Ziolkowski, recently sat down with Jim Dorman and Arizona's Faith Hope Family Radio. We are grateful for the opportunity to share with the listeners all of the work that God...
read more