At Agape House of Prescott we believe in walking side-by-side individuals through the Pathway to Independence. We diligently work to transition families who are in crisis, to a life that is stable and prosperous. As you can imagine, there are multiple stages of healing and growth to this process, but the rewards are tremendous.
Stability
We first begin the journey with 30 days of stability, concentrating on the most basic needs. This step is achieved by first introducing Jesus to the family, meeting with the family several times per week, and get their life organized.
A savings account is opened. At Agape House of Prescott, 30% of all income that is earned by our families is required to be placed into the residents' personal savings account. As income is earned, the amount that is saved increases each month. The bank statements are verified by the case mentor each month for accountability. The goal of this savings account is for our families to be able to provide a first and last months' rent at the time of graduation from Agape House, as well as prepare for life circumstances or emergencies that may arise.
Personal Wellness
After 30 days, and stability has been achieved, then we work through Life Worth 101. This is a 12-week program discovering personal wellness and dealing with the core issues to truly get to the root of the problem. This training is designed to advance personal wellness which promotes examination of past events and behaviors in order to empower participants to choose new strategies for positive outcomes. We teach everything from toxic verses healthy relationships to replacing the lies we have believed about ourselves with the truth of God's word.
Practical Life Skills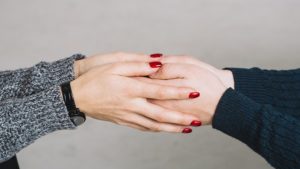 Third we concentrate on practical life skills teaching each resident HOW to live an independent life and how to truly take care of their family. Many hours are spent teaching budgeting, planning for emergencies, stretching the food dollars, how to plan menus using free food boxes, accessing community resources, and how to stop impulse buying.
Sustainability
Finally, we look to see sustainability. Old habits and poor choices have been replaced, the family is functioning in a healthy manner.
The solution for homelessness is not just get a job, get a house, get a life, and move on. The solution for the cyclical pattern of homelessness is to break and replace poor or self-harming habits, choices of impulse, and to retrain the mind.
The steps on the Pathway to Independence is exhaustive and thorough. Everything we can do to promote success and prevent homelessness from ever occurring again is given through love, accountability, and discipline.
At Agape House we do not hand out food, we teach how to cook on a budget. We do not hand out new school clothing, we teach how to use community resources. We do not hand out first & last months' rent, we teach how to save money slowly over the course of many months. At Agape House, we teach SKILLS FOR LIFE!