Why do you volunteer?

I Volunteer & Donate Items Because….
I was homeless once and there were kind people who set up my house like you all do for these families. They said they were setting up the home for Jesus and I was entrusted to care for it! It resonated with me … I developed an attitude of thankfulness for everything I had as I used it to cook, eat, clean, sleep, sit, and lay. It was my desire to give back in the same way I was taken care of! I am still entrusted with his possessions, the finances he has given me and the souls he has woven into my life. It is my prayer that they will bake for the glory of God and take care of these things like they belong to Jesus! 
– Agape House Volunteer
I've had a heart for the homeless for over 10 years.  I grew up in a home of 9 people and remember always being hungry.  The first of the month we always had plenty, but toward the end we would run out of food and other essentials such as toilet paper and we lived in a home.  Agape house is a blessing to all ages and families.  They assist in helping to restore them physically, mentally, and spiritually and to get them on a road to self sufficiency.  Agape House is a light that shines into a family's darkness to give them Hope.  The LORD has blessed me with so much that I am honored to help those who are struggling and hurting.
– Agape House Volunteer
Pray
Join us in prayer for the ministry, families and the specific needs of our families.
Help us make a difference. Donate to make a change. Become a financial donor to support families.
Serve
Contribute your time with clerical assistance, IT help, volunteering at fundraising events, grant writing, teaching life skill or other classes, home maintenance and other areas as they develop.
Want to Volunteer?
With our needs and projects changing daily, if you are interested in volunteering at Agape House of Prescott, please contact us to find out what our current needs are.
We would love your help!
Lanae
Director of Volunteers
(928) 910-1089 ext. #104
volunteer.agapeprescott@gmail.com
Interested in Volunteering?
If you are interested in learning more about volunteering with Agape House, Please call, Lanae, our Director of Volunteers at (928) 910-1089 ext. #104.
Lanae would enjoy talking to you about the opportunities we currently have and provide you with our next volunteer scheduled date.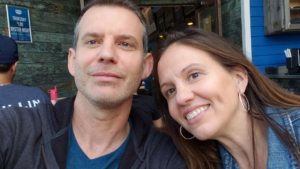 My name is Jason Donston. I began serving, in whatever capacity I could, not long after I accepted Jesus as my Savior in 1996 at a Harvest Crusade in San Diego, CA. My first experience in serving was as an usher at my home church. I enjoyed it very much, and it only increased my desire to serve.
Soon after I went on my first missions trip to an orphanage in Mexico. It was great! Ministering to the kids was an awesome experience, and I have been blessed to return to Mexico many times since, even leading several trips myself. I was also fortunate to travel to Ghana, West Africa, on a medical missions trip. While seeing the sickness and poverty was heartbreaking, in many ways, it was an eye-opening experience, and one I'll never forget. I also served at my local church in Fallbrook, CA as the worship leader for many years, and also had the opportunity to serve, at the same church, on the board of directors as well.
We moved to the Prescott area in March of 2021, and have been enjoying our time here, thus far. Not long after we got settled, I began looking for places to serve, and Agape House caught my eye. I contacted Lanae and started volunteering soon after. I've really enjoyed volunteering with Agape House. I've done a wide variety of things from light construction to delivering poinsettias at Christmas time. It has truly been one of the biggest highlights of our time here in Prescott, and I look forward to serving at Agape House for the foreseeable future.
I am married (to my awesome wife Mindy) with three boys: Asher, Josiah, and Justus. I do my best to serve, and love them, as Christ would have me, and they are my priority. My wife, and I are both registered nurses and have been working in that capacity for many years. I am currently continuing my education in nursing with hopes of completing my Master's degree. Also, I enjoy surfing (can't do much of that here in AZ), playing guitar and camping with my family.
I believe serving God in whatever capacity we are able is of the utmost importance. Jesus said, he "did not come to be served but to serve" (Mark 10:45), and I believe we as His people should do the same.
1 Peter 4: 10
Each one should use whatever gift he has received to serve others, faithfully
administering God's grace in its various forms.