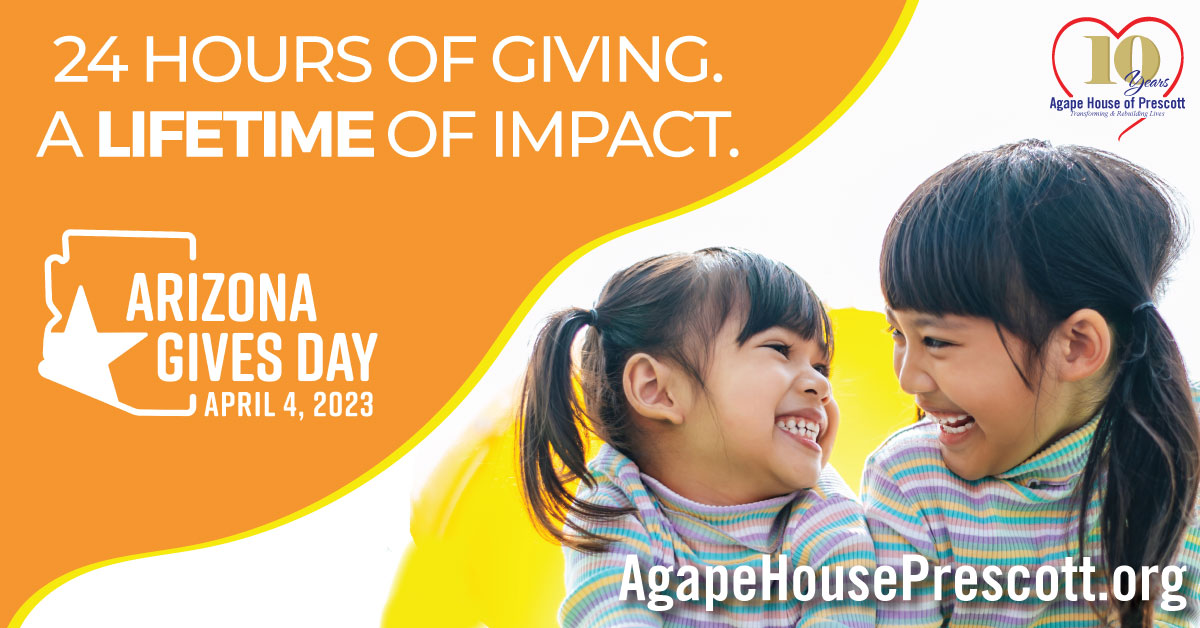 AZ Gives Day – April 4, 2023
Arizona Gives Day
is a statewide 24-hour online fundraising event for Arizona's nonprofit community. The event was started in 2013 to connect causes and supporters in order to enrich and empower Arizona and begin building a spirit of philanthropy among citizens.
SAVE-THE-DATE — this year AZ Gives Day takes place on April 4, 2023.
Our hope is that you will invest in Arizona and to transform the lives families we serve! Agape House of Prescott is excited to announce that we are joining this year's #AZGivesDay — the day of statewide giving and would appreciate your support at this dedicated link.
Since January 2015, Agape House of Prescott has served nearly 100 people with 25,406 nights to call home for families who might otherwise have slept in their car or campground. The Agape House PATHWAY TO INDEPENDENCE program has a proven 86% success rate of families living independent lives 1-year after graduation.
"It is always our pleasure to support such a great institution that makes a positive difference in our area.  All the best to you!" ~ Kell Palguta, Prescott Valley Mayor
Keeping families together while providing long-term transitional housing for families in crisis without a residence is the compassionate mission of Agape House of Prescott. We work to rebuild and transform families' lives and prepare them for an independent and self-sustained future—Prescott's ONLY family-inclusive transitional housing community.
Control Where Your Tax Dollars are Spent
Encourage your circle of influence
–
you can create your own personal fundraiser
page to show your support of the Agape House of Prescott
100 Weeks to Call Home
fundraiser? You set the goal, you spread the word, you champion the cause! Learn more Here.
Control where your tax dollars are spent. Don't forget — your #AZGivesDay 2022 donation to Agape House of Prescott can be deducted on your 2021 Arizona state tax returns if you haven't yet reached your Arizona Charitable Tax Credit limit – up to $400 filing single or $800 filing married. Thanks to a 2016 law, Arizona taxpayers looking to reduce their tax liability can take advantage of the Arizona Charitable Tax Credit dollar for dollar when filed on or before the April filing deadline. Visit our website at AgapeHousePrescott.org for more information. *Always seek tax advice from a tax advisor.
Donate Here to make a meaningful investment in your community.
HELP US WIN! Participating nonprofits have the chance to win cash prizes from a $180,000 prize pool. Prizes are awarded based on several categories and through random drawings. The cash prizes will go to serve the immediate needs of the families we serve.
THREE Ways to Give the Most IMPACT for the Families of Agape House.
GIVE YOUR VOICE.  Pray for the Agape House ministry, the workers and volunteers, the needs of the families we serve, and our community. Pray for our donors, sponsors and supporters.
GIVE A DONATION.  Give HOPE and EMPOWERMENT to those taking the first fresh-start steps to change their lives click here  
GIVE YOUR TIME.  Serve to volunteer. See more information here