Agape House of Prescott offers homeless services to families in Prescott, Arizona. Agape House staff and volunteers work together and witness lives that have been rebuilt and transformed into living a life of independence.
LIVES ARE BEING TRANFORMED AND REBUILT AT AGAPE HOUSE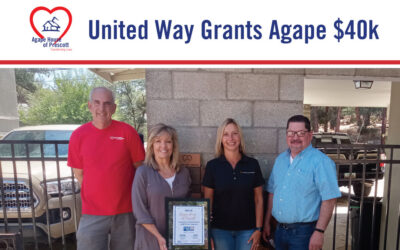 Agape House is humbled by the support and generosity of the United Way. United Way has been very kind to the Agape House of Prescott over the years. The nonprofit organization awarded $20,000 for the program year 2021- 2022 to help operate the nine-unit apartment...
read more
THANK YOU TO OUR SUPPORTERS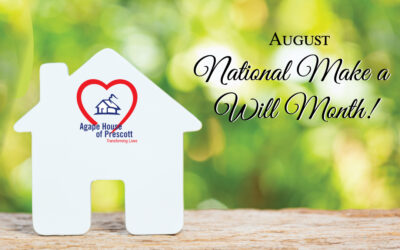 Did you know that August is National Make-A-Will Month? Agape House has partnered with Thrivent to set up an endowment and can assist with setting up a legacy gift through meaningful financial support for those in need by leaving a bequest in your will, trust, or...
read more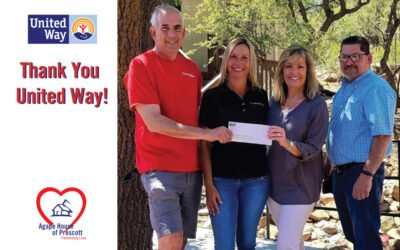 Agape House appreciates the ongoing support of the United Way. United Way recently blessed Agape House with volunteers, workers, and a $1,000 donation to help families rebuild and transform their lives. Together with their help, homeless families can journey on the...
read more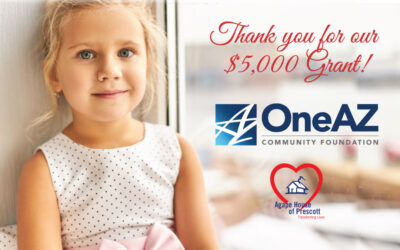 Agape House of Prescott Receives Grant from theOneAZ Community FoundationOneAZ Community Foundation has awarded grants to 50 Arizona nonprofit organizations  PHOENIX, AZ June 21, 2022 - The OneAZ Community Foundation has awarded Agape House of Prescott  a $5,000...
read more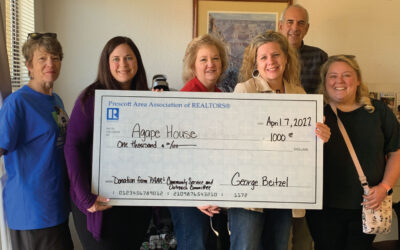 Agape House of Prescott is incredibly grateful for the support of the Prescott community. The Prescott Area Association of Realtors stepped up and greatly blessed Agape House. Recently, a group of Realtors from the Prescott area stopped by the Agape House office and...
read more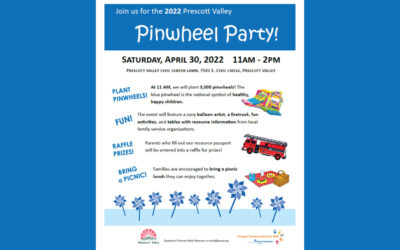 Grateful for Prescott Valley's Support Agape House of Prescott is grateful for the support and encouragement received from the Town of Prescott Valley. Agape House is excited to be participating in the upcoming Pinwheel Party on Saturday, April 30th, from 11 am to 2...
read more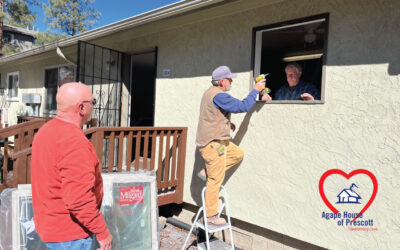 Donated Windows and Donated Labor   Work Day on 3/12/22 A team of eight dedicated men replaced nine windows in our Agapeville apartments in less than 2 hours. MI Windows in Prescott Valley donated the windows! In addition to the windows' donation, Agape House...
read more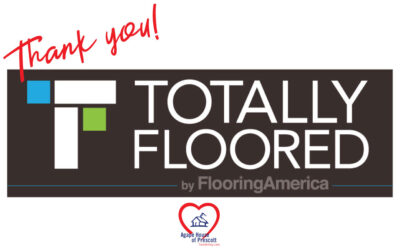 We want to welcome Totally Floored by Flooring America in Prescott Valley, as a Corporate Sponsor of Agape House! Totally Floored by Flooring America We are excited and eager at Totally Floored by Flooring America to get to know you and help you with all of your floor...
read more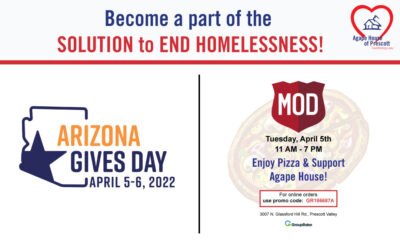 Two Incredible Events on one Day!Arizona Gives Day is a statewide 24-hour online fundraising event for Arizona's nonprofit community. The event was started in 2013 to connect causes and supporters in order to enrich and empower Arizona and begin building a spirit of...
read more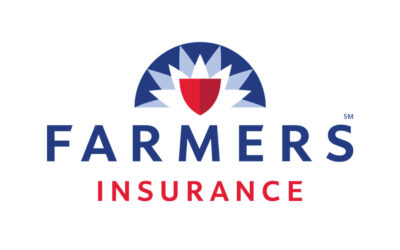 Agape House would like to thank Vince Moser Farmers Insurance! Vince Moser is an Agape House 2022 Corporate Sponsor. Agape House could not support families in crisis without the community support of partners just like Vince. Thank you, Vince Moser Farmers...
read more
Together We Can Provide Hope, Love, & Housing To Our Local Families!
Keeping Families Together Through Transitional Housing