Agape House of Prescott offers homeless services to families in Prescott, Arizona. Agape House staff and volunteers work together and witness lives that have been rebuilt and transformed into living a life of independence.
LIVES ARE BEING TRANFORMED AND REBUILT AT AGAPE HOUSE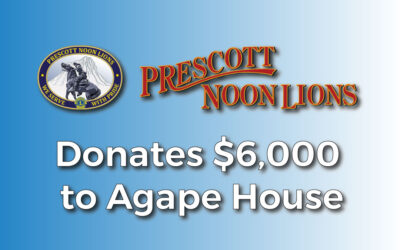 Prescott Noon Lions Blesses Agape House The support from the Prescott Noon Lions continually blesses Agape House. Recently, the Prescott Noon Lions presented a check for $6,000 to the Agape House. This donation will allow Agape House to give more families hope for the...
read more
THANK YOU TO OUR SUPPORTERS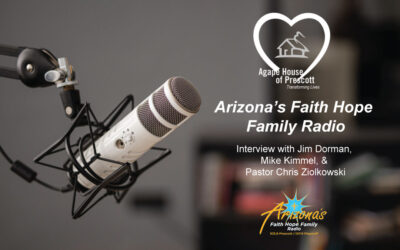 Agape House Director Mike Kimmel, and the Facilities Director for Agape House, Pastor Chris Ziolkowski, recently sat down with Jim Dorman and Arizona's Faith Hope Family Radio. We are grateful for the opportunity to share with the listeners all of the work that God...
read more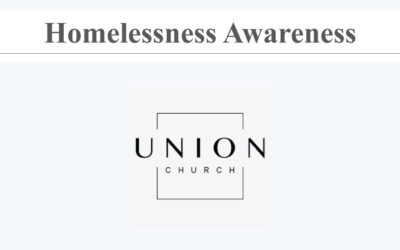 Thank you, Pastor Jon Wolfinger & Union Church! Pastor Jon attended the very first board meeting ever in November 2012. He was a part of the original board, and his church donated the funds needed to help us get incorporated in 2013. Over the years, his family has...
read more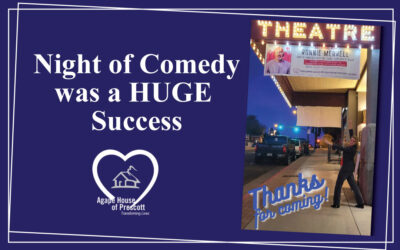 Successful Night Saturday night at The Elks Lodge, Ronnie Merrell held us captive to an entertaining night of comedy. This was to be a night of fundraising and entertainment for Agape House and the attendees. Ronnie's teenage son opened the sold-out show with a...
read more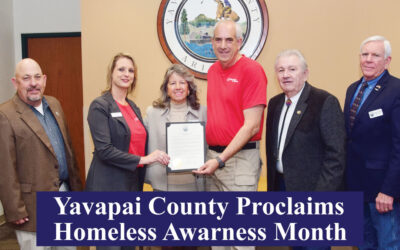 Thank you to Mary Mallory "We appreciate everything that you do. Definitely as a community, we are a family here and we are here to support all that you have accomplished and will accomplish in the future. Appreciate all of you so much! Honored to have you at the...
read more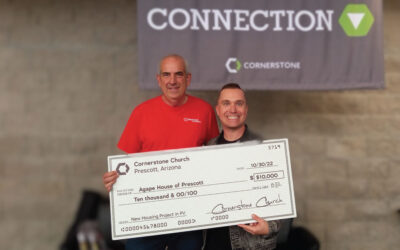 All we can say is, "Wow"! Agape House of Prescott had an unexpected special surprise from Cornerstone church in Prescott! Over the past few years, Cornerstone Church has been very generous to Agape House. Serving and volunteering together, the Agape resident families...
read more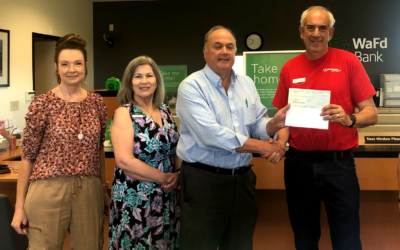 Thank You WaFd Thank you, WaFd bank! In addition to a recent grant awarded to Agape House, WaFd also provided a financial literacy resource webpage to assist our residents. Faith and Finance Class Lynn Stone, board member and long-time volunteer of Agape House,...
read more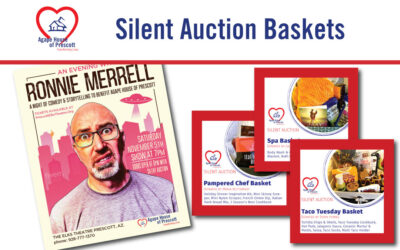 A Night of Comedy & Storytellingto Benefit Agape House Ronnie Merrell will entertain guests at the upcoming Night of Comedy and Storytelling on November 5th. In addition to the evening will be full of entertainment and fellowship, there will be a Silent Auction of...
read more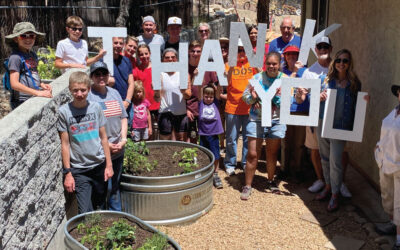 Residents of the Agape House Apartments in Prescott are blessed by a beautiful plant when they arrive home each day. These plants represent more than a beautiful decoration; they represent love and support from a dear friend to Agape House. After leaving this earth, a...
read more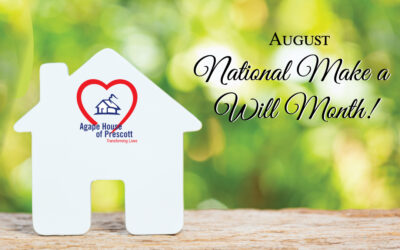 Did you know that August is National Make-A-Will Month? Agape House has partnered with Thrivent to set up an endowment and can assist with setting up a legacy gift through meaningful financial support for those in need by leaving a bequest in your will, trust, or...
read more
Together We Can Provide Hope, Love, & Housing To Our Local Families!
Keeping Families Together Through Transitional Housing