UPCOMING EVENTS
AGAPE HOUSE OF PRESCOTT
The Agape House team of volunteers and staff are continuously working in the community, spreading the word of the great things happening at Agape House.
Transform Lives
WITH YOUR AZ CHARITABLE TAX CREDIT
NEED HELP?
Do You or Someone You Know Need Help Today?
Upcoming Events
We love reaching into the community! Please visit the Agape House team at the events listed below.
If you have any questions on the events listed, give our office a call at (928) 910-1089.
Shout out to Ashley at Goodwin Street Pharmacy and Kathy Parks for all the hard work this year making this a reality!
November 28: Poinsettia Campaign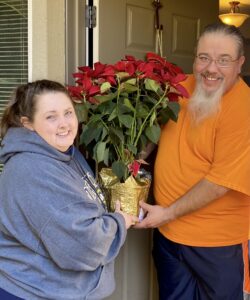 Poinsettias Arrive, Monday Nov 28th
Poinsettias Week Monday, 11.28.22 to Friday, 12.2.22
Last Year, Poinsettias raised $147,000 to help homeless families in Prescott!
42 neighborhoods participated, 7 churches, and 3 clubs joined to end homelessness!
Seeking neighborhood team leaders. The goal is to find 20 supporters from each neighborhood and deliver one poinsettias to each the first week of December.
Contact (928) 910-1089 x 102 if you would like to be a neighborhood team leader for the next Poinsettia Campaign!
"We feel like we're finally thriving!" 
-- Agape House Resident
"Agape House helped me to learn how to repair my credit score.  NOW I am eligible to rent MY OWN apartment!"
-- Agape House Resident
"I paid off two bills, have $1,000 in savings.  I feel so positive, safe, secure!"
-- Agape House Resident
Someone donated a 2013 Chevy Cruze to Agape House and they gave it to us. Another answer to prayer.  May God bless the person that donated that car and it has been a real blessing to us.
-- Single Mother, Agape House Resident
Before Agape "I had lost", but since Agape "I got my family back!  I've reconnected with my kids & husband!"
--  Current Resident
"Dear Agape House, I just wanted to give a great big thanks to Agape House.  You guys have helped me and [my son] so much with providing a safe place to stay and very much needed resources to help us become independent.  Lisa, Becky, Vicki, Jim, and everyone at Agape House is truly a blessing.  Thank you so much for everything you do.  I will never forget all of you and I will keep in touch.  Thank you!"
--Agape House Graduate
"It's been years since my daughter has had a bed."
--Agape House Graduate
"I enjoy my kids again!"
-- Agape House Resident