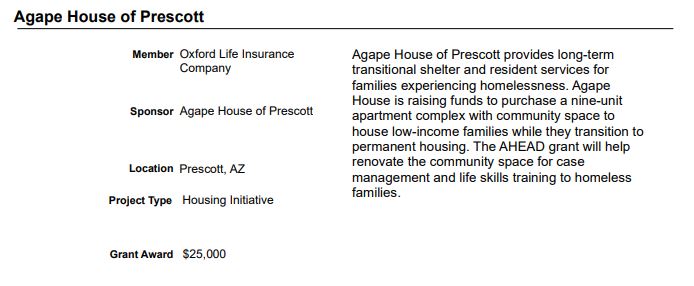 Bank Members Sponsor Winning AHEAD Grant Applications for 60 Nonprofits
This year, the Bank awarded $1.5 million in AHEAD grants to nonprofits to help support economic recovery and development initiatives and assist with other pressing needs in lower-income and underserved communities across Arizona, California, and Nevada.
About AHEAD Economic Development Grants
"Ensuring that people living in lower-income communities have the infrastructure and resources they need to fully participate in a changing economy is an ongoing challenge. Our members and their community partners use Access to Housing and Economic Assistance for Development (AHEAD) grants to help create a brighter, more equitable future for underserved people, neighborhoods, and communities."  Source FHLBSF.com
Agape House is grateful for the support of our community as the team at Agape House of Prescott works to give hope, transform lives, and give homes to families in need!
Thank you for your support!  Lives are being empowered because of you!