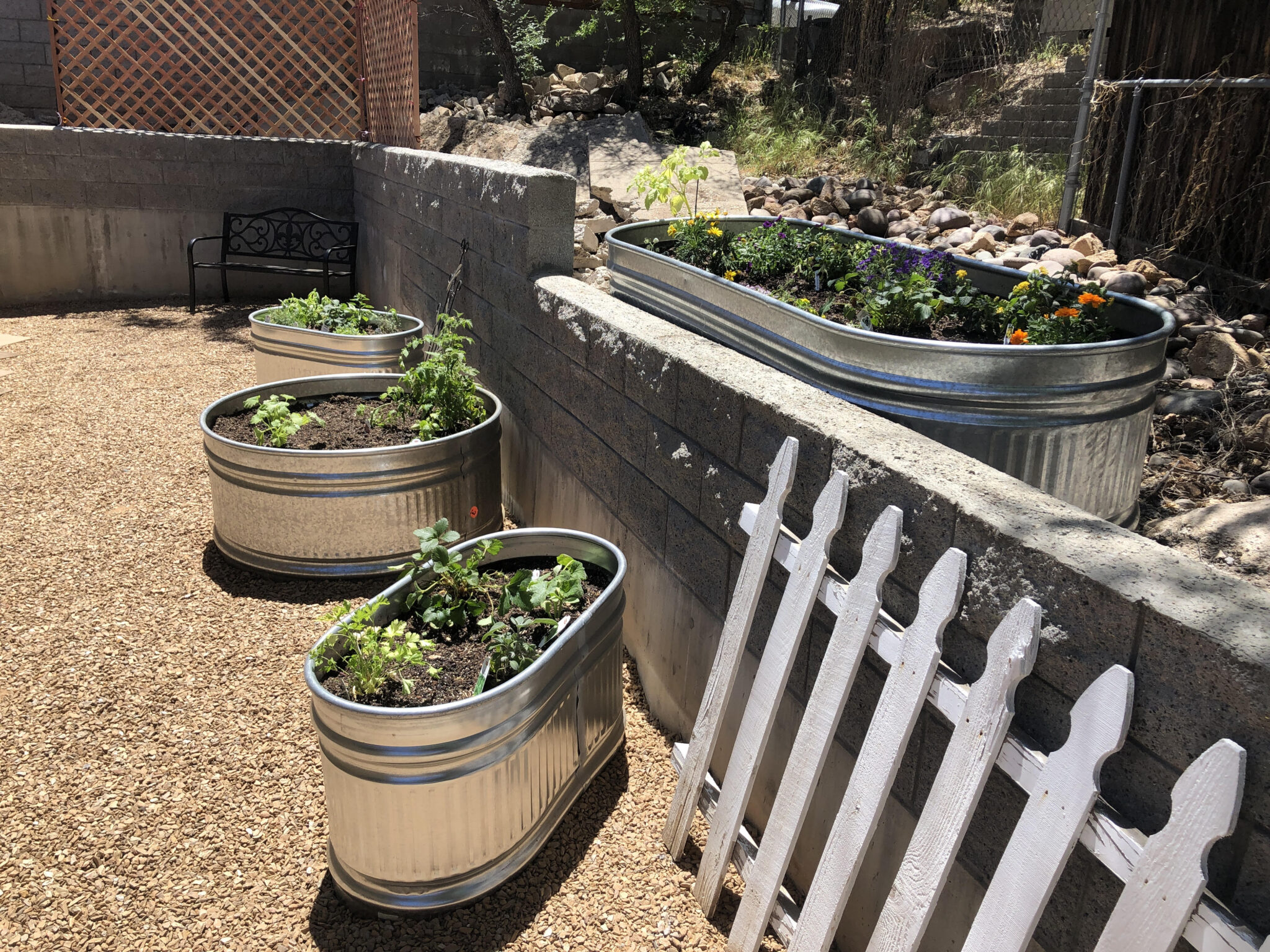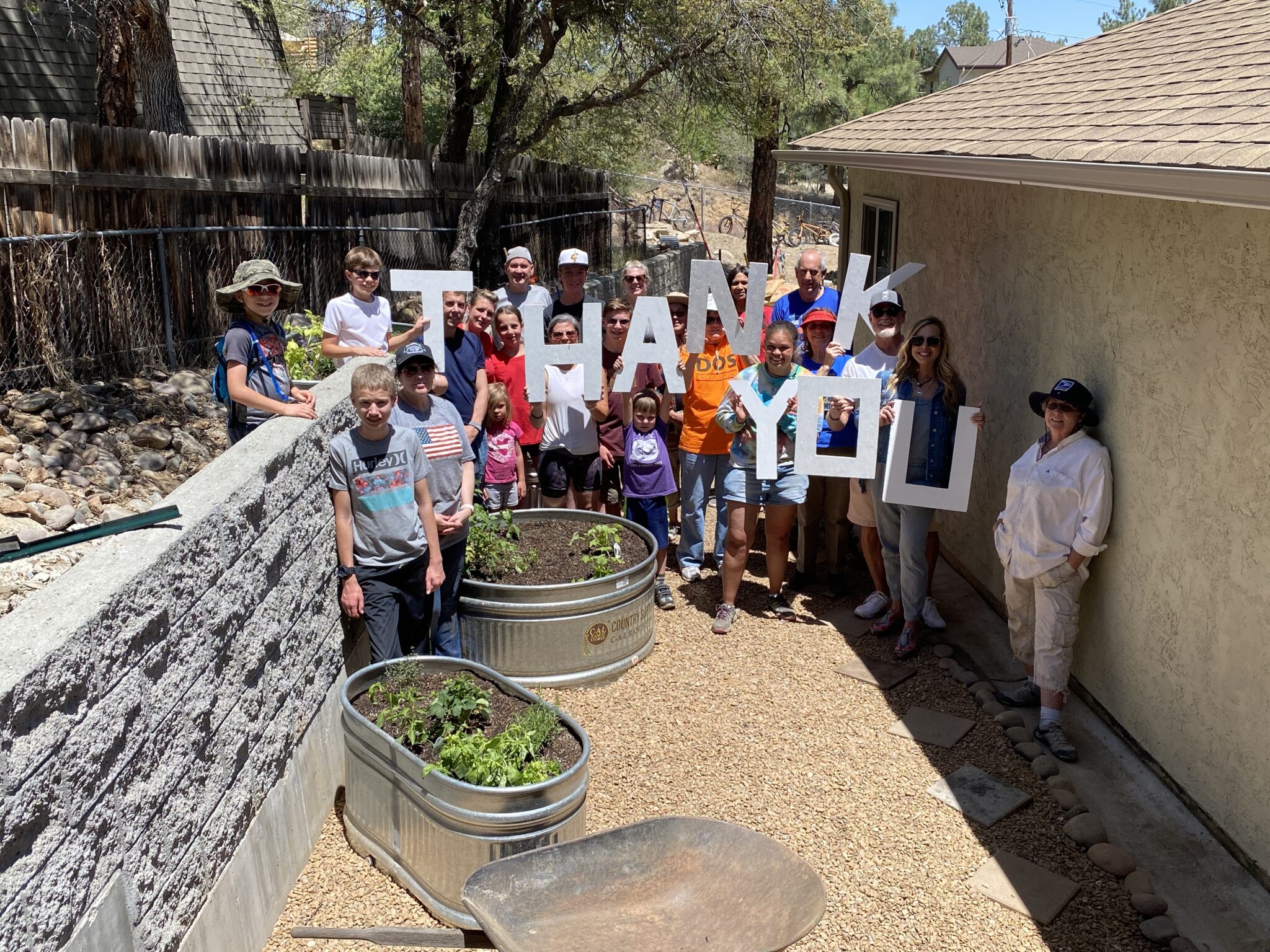 Residents of the Agape House Apartments in Prescott are blessed by a beautiful plant when they arrive home each day. These plants represent more than a beautiful decoration; they represent love and support from a dear friend to Agape House.
After leaving this earth, a long-time friend and supporter of Agape House, Harold Watters left behind nine planting pots. Harold had wished to donate these pots to the ministry of Agape House upon his departure.
He had a vision of creating beauty on the front porch of each resident.  Support rallied with Agape House to create a memorial garden. The garden is a fitting way to honor Harold Watters. His memory, his ministry support, and his commitment to the community.
Foothills Bank, which awarded us $25,000 last year for apartments through the AHEAD grant, was a significant component in bringing the vision of the garden to completion. In addition to the funding, they offered volunteers from Foothills Bank to help build the garden project.
A collaboration of Watters Garden, who donated plants and dirt, special guest Brent Yates, and Giving Up, and multiple volunteers, the garden came alive!  The workday was filled with laughter, dirt digging, rock racking, and painting. On top of building the garden, volunteers assembled a bike rack and basketball hoop.
A personal note from Agape House Administrative Director Becky:
On a personal note, the Watters and Lain family has meant much to my family over the years. In 2005, when my husband and I arrived in town from the midwest with our moving truck, a gentleman in the neighborhood saw the moving truck. The gentleman was Ken Lain from Watters Nursery. Ken was picking his kids up from the nearby high school when he kindly stopped to help us unload our moving truck and welcome us to the Prescott area. My husband and I simply thought he was an amiable man; we didn't know the way God would use the Lain and Watters family through the upcoming years. We were youth leaders at the Heights church  when my husband and I served the Lain twin girls and shared some extraordinary moments. Between 2005 and 2008, as their Jr. High youth leaders, we studied the Bible together and enjoyed journeying through life with their family. I shared my heart with those girls, and we learned about heaven and Jesus together. I was blessed.
During this time, Ken Lain introduced the idea of raising money through Poinsettias. The journey began in 2014 under the big youth group tent at Heights Church. We had no idea it would lead to such success. Harold Watters had supported Lisa Brownlie, the Agape House Discipleship Director, for many years while she was an individual missionary. After Lisa joined the Serve Team at Agape House of Prescott, Harold Watters called to learn more about Agape House. Harold Watters became a Golden Donor in 2019. In 2021 he donated to the building fund and donated a storage closet for our outdoor tools. Upon Harold's passing, he left his prized gardening potting plants to the residents of Agape House, which now reside outside the door of each home at Agapeville. The Watters and Lain families have been an incredible blessing to the Agape House in numerous ways. It is extraordinary to have the privilege of honoring Harold Watters in this manner.
Thank You Foothills Bank
Agape House wants to thank Foothills Banks for the generous support of our mission to help transform and rebuild the lives of families in Prescott. Foothills Bank volunteers have gone above and beyond helping on the gardening project, helping with Financial Literacy, teaching budget classes, and helping with administrative office work.
Foothills Bank have been a wonderful group of volunteers genuinely giving back to their community through financial support and volunteer service. Their dedication to the community is heartwarming!  Thank you Foothills Bank!
A Note From Mike Kimmel, Executive Director:
To Foothills Bank,
Thank you for blessing our families with a beautiful garden and a place of rest. Your generous check covered all our stock tanks and materials that will give the families a shaded area in the back of the garden. Your hard work made the beauty possible.
We look forward to more projects with you in the future.