Agape House of Prescott offers homeless services to families in Prescott, Arizona. Agape House staff and volunteers work together and witness lives that have been rebuilt and transformed into living a life of independence.
LIVES ARE BEING TRANFORMED AND REBUILT AT AGAPE HOUSE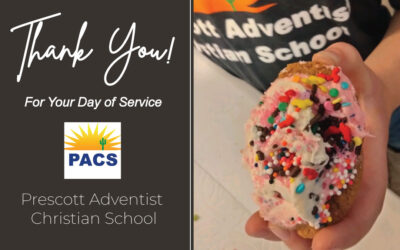 Extraordinary Day of Service The recent Day of Service was extraordinary, with nearly 60 children ranging from K-8 from the Prescott Adventist Christian School, including participation from their homeschool extension! Their very caring and tender hearts spoke openly...
read more
THANK YOU TO OUR SUPPORTERS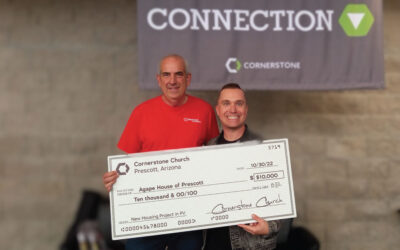 All we can say is, "Wow"! Agape House of Prescott had an unexpected special surprise from Cornerstone church in Prescott! Over the past few years, Cornerstone Church has been very generous to Agape House. Serving and volunteering together, the Agape resident families...
read more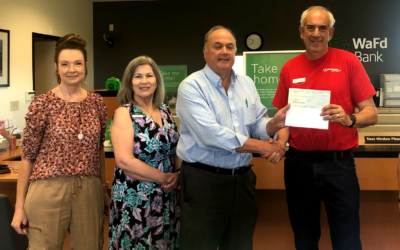 Thank You WaFd Thank you, WaFd bank! In addition to a recent grant awarded to Agape House, WaFd also provided a financial literacy resource webpage to assist our residents. Faith and Finance Class Lynn Stone, board member and long-time volunteer of Agape House,...
read more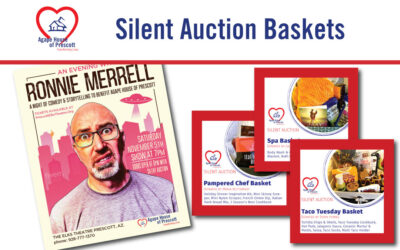 A Night of Comedy & Storytellingto Benefit Agape House Ronnie Merrell will entertain guests at the upcoming Night of Comedy and Storytelling on November 5th. In addition to the evening will be full of entertainment and fellowship, there will be a Silent Auction of...
read more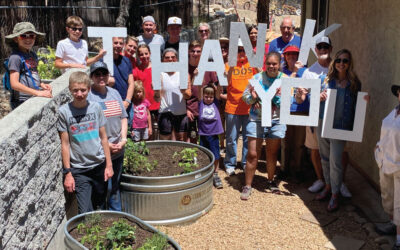 Residents of the Agape House Apartments in Prescott are blessed by a beautiful plant when they arrive home each day. These plants represent more than a beautiful decoration; they represent love and support from a dear friend to Agape House. After leaving this earth, a...
read more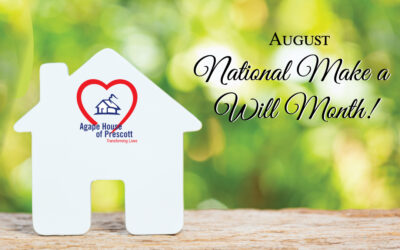 Did you know that August is National Make-A-Will Month? Agape House has partnered with Thrivent to set up an endowment and can assist with setting up a legacy gift through meaningful financial support for those in need by leaving a bequest in your will, trust, or...
read more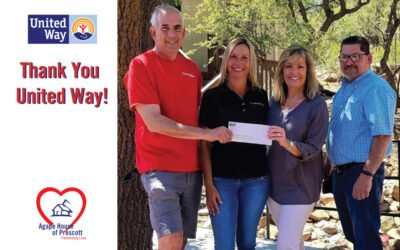 Agape House appreciates the ongoing support of the United Way. United Way recently blessed Agape House with volunteers, workers, and a $1,000 donation to help families rebuild and transform their lives. Together with their help, homeless families can journey on the...
read more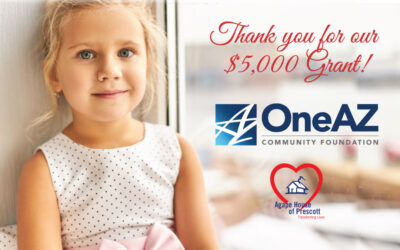 Agape House of Prescott Receives Grant from theOneAZ Community FoundationOneAZ Community Foundation has awarded grants to 50 Arizona nonprofit organizations  PHOENIX, AZ June 21, 2022 - The OneAZ Community Foundation has awarded Agape House of Prescott  a $5,000...
read more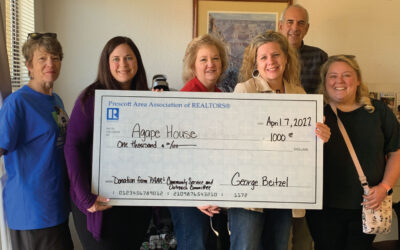 Agape House of Prescott is incredibly grateful for the support of the Prescott community. The Prescott Area Association of Realtors stepped up and greatly blessed Agape House. Recently, a group of Realtors from the Prescott area stopped by the Agape House office and...
read more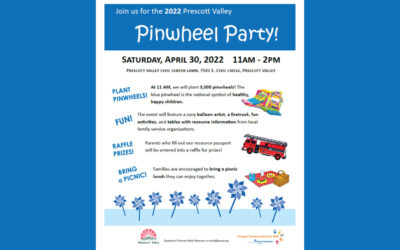 Grateful for Prescott Valley's Support Agape House of Prescott is grateful for the support and encouragement received from the Town of Prescott Valley. Agape House is excited to be participating in the upcoming Pinwheel Party on Saturday, April 30th, from 11 am to 2...
read more
Together We Can Provide Hope, Love, & Housing To Our Local Families!
Keeping Families Together Through Transitional Housing