Recently, the Agape House administrative team took the time to celebrate. They took time to celebrate the success stories. They paused to see the blessings, big and small, that have grown in the lives of the Agape House residents. They took time to publicly praise God for the work he has done in such mighty ways.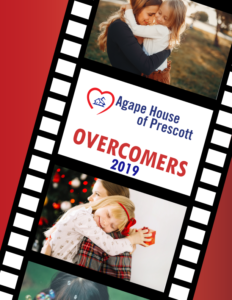 The celebration was called 'Overcomers'. It was celebrating the families who have overcome life's bump, challenges, past mistakes, and hurts to succeed in life! The families of Agape House were invited as well as the volunteers who have helped the families in their journey. These volunteers have hearts that will warm up a room. What a dedicated group of people.
Here is a testimony from one of the volunteers that was shared at the Overcomers event.
How I loved working with this mom and her pre-teen! I vividly remember her resistance to having this strange old women come into her life and try to strongly encourage her to consider "new options " to spending and saving her money! But this amazing woman chose HARD! She chose CHANGE! She chose sacrificing now for a better future! She chose to finish her degree. She chose to follow a strict spending plan and even more difficult saving plan. And save she did! Reluctantly at first, but once she saw that savings and emergency fund growing, she began to invest her heart and soul into the process and that meant SUCCESS!

I remember her showing me the monthly budget she had prepared and I commented: "Honey, you need SOME money for miscellaneous spending" to which she replied, "I really believe I can do without and be just fine!" AND SHE DID!

She paid off old debt. She saved enough money for first month's rent and cleaning deposit. She had saved enough for car repairs and a new tire! She had saved enough for a washer and dryer. She still had emergency funds in the bank!

I was honored and privileged to be a part of her journey! What a joy it was to see her diploma, see her daughter receive honors and get on the Dean's list, and watching her put together her new place! A safe, nurturing healthy environment for her and her beautiful daughter to THRIVE!
I am speechless when I read these stories. The dedication of both the mother and the volunteer inspire me to do more! If you would like to help Agape House do more, contact us today!