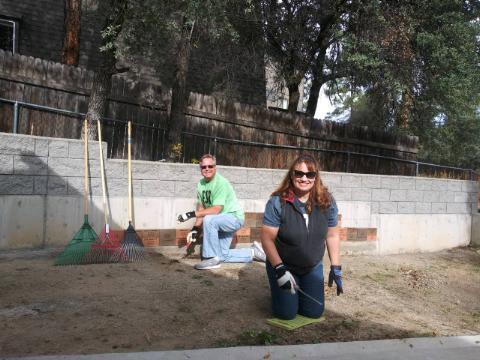 Cornerstone Church of Prescott supplied 20 volunteers for a workday at the Agape House of Prescott. The ages were young and old, teenager to senior. The team completed tasks that were tough and strenuous, but in the end, the campus of Agape House (also known as Agapeville) was beautiful and clean!
The ladies from Cornerstone Church painted, the teenagers pulled weeds and raked, and the men moved 10 tons of stone around the campus. Pastor Scott of Cornerstone Church stopped by and encouraged the volunteers who worked hard for our Agape families.
The Agapeville Apartments give families a safe place to call home while the Agape House team mentors and disciples them to rebuild their lives. Renovations and improvements are constantly taking place at the apartments—a great way to show community support and give the Agape families pride in their homes.
Without Cornerstone Church volunteers, our campus would not be as pretty as it is today.
Some of the Amazing Volunteers Include: 
Dave Loskill from Loskill Financial Group
Jim McKie- volunteer of Agape House & member of Cornerstone Church
Cornerstone Volunteer Participants- Prescott Cares Day!
We Appreciate Each and Everyone of You!!