January 1, 2016
The majority of Americans today live paycheck to paycheck. They are just a divorce, a major illness, or a layoff away from being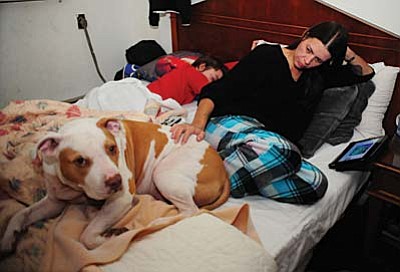 homeless. When parents get hit with any one of these, how are they able to keep their families together? How do they care for their children?
Housing, food, clothing and a steady income figure prominently in maintaining one's health and safety. For school-aged children, the stability of going to school without changing teachers and classmates can be paramount to their well-being during transitional living situations.
Approximately one in 30 children in Arizona are homeless, according to a 2014 report by American Institutes for Research. Based on figures available from local schools, state agencies and the U.S. Census Bureau, about 1,400 homeless children live in Yavapai County.
Being "homeless" doesn't always mean bouncing between shelters and the street. The McKinney-Vento Act identifies homeless students based on a number of circumstances, and mandates meals and transportation in order to help them stay in their home school.
McKinney-Vento Act
School districts not only identify children in need, they are a great resource to provide services to help keep children in school and connected with services. A lot of this is due to the McKinney-Vento Act enacted in 1987.
Where adequate and permanent housing is the norm, it is often missing for local families with children struggling with life's circumstances. The need to find acceptable housing – a place to sleep every night – often means children miss school or transfer from school to school, district to district, as housing becomes available.
The McKinney-Vento Act allows students to stay in the same school by providing free transportation. It also gives students free meals, pays for school activities that are available for other students, and get immediate special education services if the student has a current Individual Education Plan.
The Act's definition of homeless for children and youth includes those who don't have a fixed, adequate and regular nighttime residence. They could be staying in a shelter, with friends or relatives (also known as doubling up), in a motel or campground, in abandoned buildings or other inadequate accommodations, or as some people commonly associate with the word homeless, in a car, bus station, park bench or other public place.
Humboldt School District – 344
Every school district receiving federal funds through the McKinney-Vento Act has a liaison to help identify and provide services or resources for students classified as homeless. In the Humboldt Unified School District, this is Pam Van Driel, family resource specialist/homeless liaison, who operates the HUSD Family Resource Center.
344 children are identified as homeless.
The center, open Monday through Friday from 9 a.m. to 3 p.m., provides free clothing, shoes and school supplies to the HUSD families as well as the general public. Community members, churches and other organizations donate all items. Some limited funds through Title I money are available for new clothing.
Van Driel coordinates referrals to community resources and agencies that offer assistance with rent, utilities and low-income housing. The center is located in Prescott Valley on the HUSD District Office campus, 6411 N. Robert Road, building 400, room 422, near the bus transportation lot. For more information, call 928-759-5104.
Van Driel said the district's enrollment packet includes a Rights of Homeless form that describes the McKinney-Vento Act. Students or families fill out an affidavit that explains their situation, and as school personnel processes the packets, they notify Van Driel who puts the students on a free breakfast and lunch program. If needed, the Hungry Kids project sends food home with the children to tide them over on weekends.
"We get donated school supplies and backpacks – every time I ran out this year, I got more," Van Driel said.
Each district gets federal money through the Title I program based on enrollment and information from census reports. It mandates that a minimum of one-half percent of its allocation goes for homeless services, which came to just over $6,000 this year, said Danny Brown, HUSD director of federal programs and school improvement. Census data from two years prior considers age-eligible children (5 to 17 years old) and tax return information relating to poverty levels. The formula determines how much the state receives, and the state allocates money to the school districts, after keeping some for administrative costs to operate the program. It's complicated, Brown said.
"Most of our Title I money goes to our reading intervention program," he said. All funds slated for the homeless go to the Resource Center. "Pam knows the needs of our families."
Van Driel said one family the district is helping includes three students. The grandparents in Chino Valley took in the father and his children; the grandfather recently was hospitalized.
"They have absolutely nothing," Van Driel said. She has provided referrals for health care, food banks, the Salvation Army angel tree, and the Coalition for Compassion and Justice (CCJ) for help with vehicle repairs. HUSD provides transportation so the children can continue to attend their schools.
Grandparents are often willing to take on raising school-aged children when parents have substance abuse problems, mental illness, or are sentenced to prison, for example, and where the only other alternative is the foster care system. Sometimes medical or other issues create major hardships for parents. Regardless of circumstances, every year the numbers have increased.
"It's kind of a sign of our times. It's very sad. I keep hoping it's going to turn around and things will get better and the numbers will start going down again," Van Driel said. "For now, a lot of people are out there struggling."
Prescott School District – 56
Shari Sterling, homeless program coordinator for the Prescott Unified School District, said the district's website (www.prescottschools.com/pusd-homeless-program/) has a comprehensive overview of the McKinney-Vento Act, and provides resources for clothing; food; housing; medical, dental and mental health; transportation; tutoring; foreclosure; and crisis intervention information.
56 children are identified as homeless.
Like HUSD, PUSD also utilizes the Hungry Kids program for weekend meals. It also provides free full-day kindergarten for its homeless families.
"It's always better for a kid to be in school," Sterling said. "If there's homelessness going on, these kids are absolutely disadvantaged academically. It's hard for them to catch up. They are in survival mode; they are doing everything they can – trying to keep a roof over their heads, food on table – academics may not be a priority."
It isn't just about – okay, you're homeless, she added. Children's lives are you're homeless, she added. Children's lives are disrupted once again after a family leaves a shelter or other transitional housing for something more stable. Making sure the children are in school is the best thing for them.
PASS shelters
Gerry Garvey, founding member of Prescott Area Shelter Services, said several years ago, she and her daughter heard about a mother and daughter arrested locally on a highway where they were walking to the nearest shelter – in Flagstaff. They realized this area had an immediate need for shelter services.
"We advocated for her. That's how the Prescott Area Women's Shelter got started," Garvey said.
PASS now includes the women's shelter (PAWS), the DAV Family Shelter, and a permanent supportive house for veterans. Since 2009, PAWS has served more than 1,800 clients; the DAV (Disabled American Veterans) family shelter has served 55 families, or guests, since it opened in 2013.
Both Sterling and Van Driel have families who are living at, or who passed through, the family shelter, and they speak highly of the DAV organization that provides Yavapai County's only family shelter facility. DAV rents the three-story building to PASS for $1 per month.
A family shelter means fathers are no longer split from children and spouses who found housing at PAWS. Single fathers can stay with their children. Also, sons aged 12 and older can remain with parents and siblings, something the women's shelter does not allow.
Currently, the family shelter houses six families. It has two shared kitchens, four restrooms with showers, a laundry facility, and a playground. Guests who stay at the family shelter receive case management services including resources and referrals, goal-setting assistance, and access to computers for job searches and resume writing.
"It's always full. We always have a waiting list of two or three families. They stay with us three months," said Katee Norris, PASS program and outreach manager.
All families must abide by rules and expectations including meeting individual goals – which could be finding work, attending Twelve Step meetings, enrolling in college classes – and keep up with household chores. Children must stay within sight of a parent and remain on their own floor.
PASS operates on the premise of "housing first," Garvey said. That means, regardless of all the other things families need to do to survive, PASS will shelter first, then puts services together around the family. Once the adults are in transitional housing and become stabilized and find employment, they are on the way to self-sufficiency.
"It was difficult to get into housing unless you were stable," Garvey said. "PASS has a 90 percent success rate. After they stay at the shelter, they go on to permanent housing. It's pretty outstanding."
What's also outstanding, she added, is that Yavapai County has something in place. In 2007, there was nowhere for women or families to find shelter, just beds for men.
CODAC teen shelter
Since Yavapai House opened in Prescott Valley a little more than a year ago, the shelter has helped more than 30 teenagers who would have been sleeping on somebody's couch or on the streets.
The home operates through Tucson-based CODAC Health, Recovery & Wellness Inc. It is the only shelter in Yavapai County for homeless and runaway youth ages 12-17, and is open 24 hours a day. According to its website, codac.org, the co-ed shelter houses up to five youth for three to four weeks and provides the following:
• Safe and secure housing, meals, clothing and laundry services.
• Assessment and referrals for medical and psychological services.
• Coordination of transportation to school and other activities.
• Hands-on skills to learn how to cook, clean, shop, budget and survive on the streets.
• Connection with schools and community services such as the food bank, HIV/AIDS testing, and youth groups.
• Recreational activities like sports, arts and crafts, hiking, fishing, and watching movies.
"The majority of the kids referred to us are through the Yavapai County Juvenile Probation department because they have one block bed grant through Administrative Office of the Courts," said Kristine Welter Hall, CODAC senior vice president of marketing, fundraising and planning.
Juveniles arrested on some charges legally cannot be detained, so officers refer them to Yavapai House if they are unable to return home. Yavapai House takes in youth ages 12 to 17, but the majority fall in the 15-to-17 age range, Hall said. The gender ratio this year included 60 percent males and 40 percent females, she added.
Hall told of a recent success story about a young man involved in the court system who had no other safe place to go after his release from detention.
"He was able to get a job, and we were able to find him a transitional living home. He is currently working and living on his own at 17 years of age," she said.
Staff from Yavapai House check on him weekly in the transitional living home and work with him on skills needed to maintain his residence and live a productive life.
"If they get off track, we help them get back to where they should be. We will also provide transportation for them to get to the required appointments to be successful," Hall said.
Yavapai House accepts volunteers who can provide mentoring, teach life-skills, advocate at appointments, provide transportation or help out with recreational activities. Anyone interested in volunteering, can email yavapaihouse@codac.org.
The residence also accepts donations. When youth enter Yavapai House, it's often with only the clothes on their backs, the website states. Needed items include clothing (especially new underwear and socks), household items, hygiene products, laundry detergent, bedding, books and movies. Financial donations also are important to care for the teens during their transition to stable living.
Agape House
Agape House of Prescott is a faith-based, 501(c)(3) nonprofit organization, dedicated to helping homeless families. It provides safe, temporary housing, counseling, career coaching, life skills training and referral services. It requires accountability and action on the part of the residents with a goal of an independent functioning household.
This past year, Agape House of Prescott has secured housing for 12 individuals. Its website states that last year 65 students in the Prescott area were without residence, and Agape was able to house nine of those.