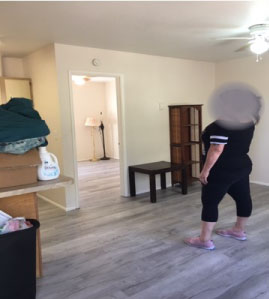 The need for homeless services in Prescott is tremendous. The Agape House receives an average of 20 calls each month from families requesting housing and assistance. They are families living on friend's couches, living in the forest, in parking lots, and trying to manage a family while their 'home' is a car.
Last month, with one Agape House apartment available, the Agape House team interviewed three families and selected one for the program.
The newest Agape House family is a single mother with two teenagers. The family has spent the last year in domestic violence shelters, living on family members couches, and recently lived in a local temporary shelter.
As she moved into her Agape House apartment, she quickly made it home. "Everything is amazing, definitely in nesting mode. You all are beyond amazing and this place feels like HOME, thank you".  The mother is currently facing health issues, navigating car problems, and is searching for a job. Through this journey, she trusts that God is at work and is excited about her future. She is incredibly grateful for the love, support, and encouragement from the Agape House staff and volunteers.
Her story is not an isolated incident, as October is Domestic Violence Awareness month. Our prayer at Agape House is that we see individuals fleeing Domestic Violence situations as strong, brave, and courageous people seeking what is best for their children and themselves!
Please consider partnering with Agape House to rebuild and transform the lives of families in Prescott.