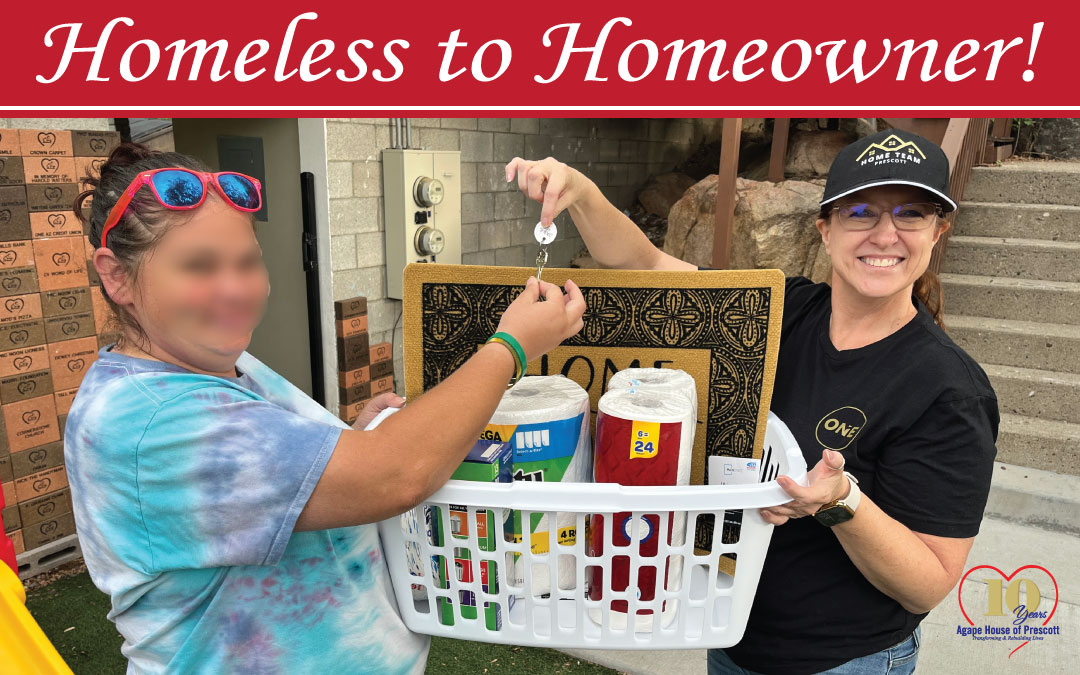 Less than two years ago, a family was homeless with three children living in a garage. Today, thanks to the Agape House program, they bought a home.
We are excited to share an inspiring story, a report summarizing what Agape House is about. This story demonstrates how vital HOPE is for families who find themselves struggling and is an excellent example of God's grace and the importance of walking alongside our families while they turn their lives around. The most recent family that graduated from the Agape program had been with Agape House for nearly two years. After journeying through the Pathway to Independence, they purchased their own home.
The family of five had a story similar to many of us. They battled with debt, the housing market in Prescott was too expensive for them, and employment issues caused a spiral that landed the family homeless and living in a garage. Agape House of Prescott walked alongside the family as they turned their lives around. The mother of the family became a resident "mother" at Agapeville. She stepped in and became the support the other families needed in their time of need. The family built healthy relationships and savings, found stable employment, learned budgeting techniques, and grew together as a family.
The mother and father recently celebrated their 17th wedding anniversary and are incredibly grateful to the mentors, staff, and volunteers of Agape House. When the Agape House Discipleship Director Lisa Brownlie visited with the family, she asked, "5 years ago, where do you think you would have been today?" The dad said, "Probably in jail." The mom said, "I'd probably be scraping by struggling to keep my family together." Lisa asked what she hopes for the future, "I hope to set a good example and show my kids how to be productive members of society. I want to spread hope that when you put in the work, God will provide."
Agape House celebrates where they are today as a family. They are homeowners, both parents have great jobs, they are sober, learning to Trust God, and they have a healthy family all under one roof. Now, they have a precious grandbaby living with them who will grow up in a stable, safe, and loving environment! Praise to God!