Finding solutions for families facing the lack of low-income housing dilemma
The cause of homelessness is three-fold:
Lack of affordable housing
Lack of a healthy support system
Lack of community resources, including mental health and livable wage employment opportunities
Fortunately, Agape House of Prescott addresses all three causes of homelessness to help families living in crisis.
Agape House is finding solutions for many families facing the dilemma of the lack of low-income housing by teaching life skills to be independent, connecting families with support systems, and giving the foundation never to be homeless again.
Dilemma Facing Families: Minimum wage is not a livable wage. According to the National Low Income Housing Coalition, "An individual would need to work 70 hours in a week at minimum wage to be able to afford a two-bedroom apartment in Arizona." The cost of housing in Arizona is a startling realization, and many families are on the economic slide and are finding themselves without housing options.
What is Interim Housing?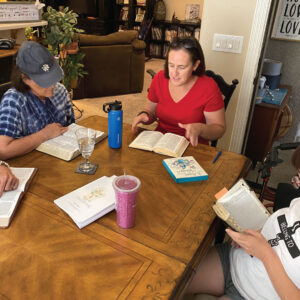 Interim housing is an interim between homelessness and living a self-sufficient life. During this time, hurdles need to be overcome. Life skills are taught, budgets are created, organizational and time management is implemented, and a healthy support system is established. It is a short season of life that leads to independence and self-sufficiency.
Agape House provides the Pathway to Independence to overcome hurdles that stand in the way of self-sufficiency. Agape House of Prescott teaches the life skills needed to take care of oneself and one's own family without relying on others and become independent.
The Process:
Agape House provides stability in housing for families with children.
Work on personal wellness/inner health and life skills.
Teach Life Skills.
Teach sustainability.
Though our timeline is unique for each family, many families stay for an average of six months. Six months is usually the amount of time it takes to overcome hurdles and learn the necessary skills and gain sustainably, to move into the future into independence.
How Families are Selected
At Agape House, we frequently get asked the question, "How do you select a family?" Agape House uses the Acceptance Rating Process. The process is a 12 question rating system between 1-5, completed by three interviewers. A low score could be 36 points, where a high score could be 180 points. Agape House seeks honest, hardworking, teachable individuals willing to persevere and overcome the hurdles that life has handed them.
Be a Part of the Solution
At Agape House of Prescott, with God's grace, we are changing the lives of homeless families forever! Become a monthly donor so that you can be a part of the solution. Your monthly donation allows Agape House to continue teaching life skills to those seeking to learn.