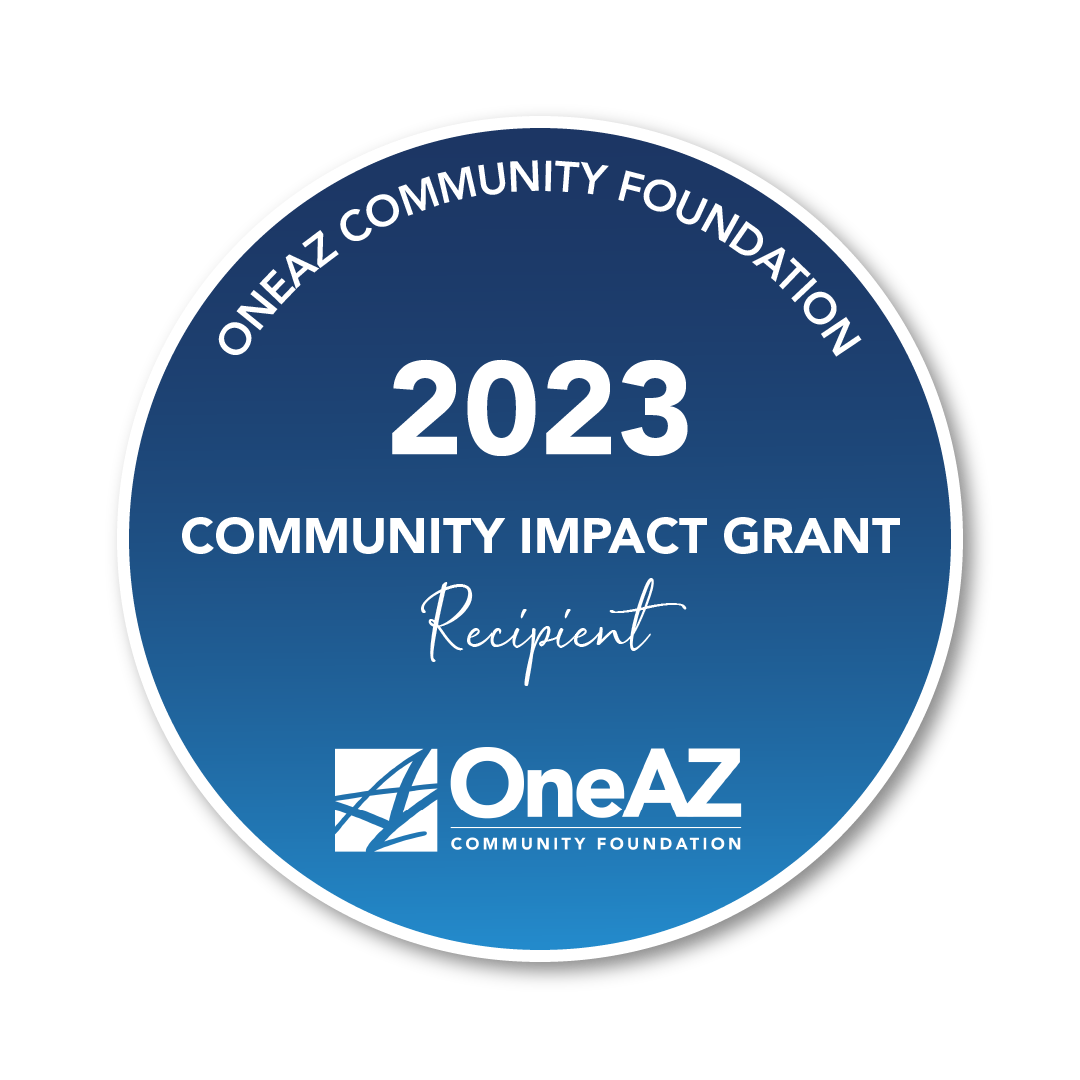 Agape House of Prescott Receives $5,000 Grant from OneAZ Credit Union
Agape House of Prescott's grant is part of OneAZ's $330,000 Community Impact Grant Program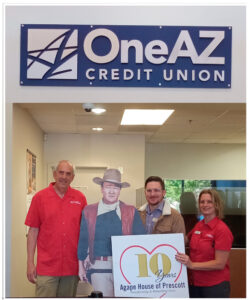 PHOENIX, AZ June 26, 2023 – OneAZ Credit Union is proud to award a $5,000 Community Impact Grant to Agape House of Prescott for their work improving the lives of their community. Agape House of Prescott is one of 66 nonprofit organizations that received a OneAZ Community Impact Grant. "OneAZ is incredibly honored to award this $5,000 Community Impact Grant," said Brandon Michaels, OneAZ President & CEO. "The organizations that the OneAZ Community Foundation supports are creating meaningful change in the communities where our members live and work. Through initiatives like the Community Impact Grant program, OneAZ is fulfilling our mission to 'improve the lives of our members, our associates and the communities we serve'."
Becky Mitchell, Admin Director of Agape House of Prescott thanks community partner OneAZ; "partnering together to build a better community, OneAZ is making a significant impact in the lives of our neighbors by offering choices for housing in such a competitive and nearly unaffordable housing market. Thank you OneAZ for your ongoing support evidenced through your belief of giving back to the community."
Since 2016, the OneAZ Community Foundation has provided over $1 million in grants and funding to Arizona nonprofit organizations through this program and other donations. Funding for the Community Impact Grant program is made possible in large part due to OneAZ members' debit card usage. This sustainable funding model allows OneAZ to equitably distribute donations to communities where our members live and work. To learn more about the OneAZ Community Foundation, visit OneAZcu.com/Foundation.
About OneAZ Credit Union
OneAZ Credit Union is a member-owned financial institution serving over 161,000 members and over 10,000 businesses with 20 branch locations across Arizona. As a credit union with over $3.3 billion in assets, OneAZ is owned by its members, who benefit from better rates, lower fees for service and improved technology. Since 1951, OneAZ has strived to help Arizonans meet their financial needs through a full suite of personal and business banking solutions. OneAZ's mission is to truly improve the lives of its members, its associates, and the communities it serves. To learn more, visit OneAZcu.com. Insured by NCUA.
About Agape House of Prescott
Agape House of Prescott serves families in crisis overcoming homelessness by providing discipleship, mentoring, life skills training, and interim housing. Currently, there are 150 homeless students in the Prescott & Prescott Valley area. We have found the solution to homelessness to be the 4-phase program, Pathways to Independence.
Phase 1 – Stability
Phase 2 – Personal Wellness
Phase 3 – Life Skills Training
Phase 4 – Sustainability
Serving up to 16 families annually including 20 adults & 40 children, the resident families are overcoming hurdles of homelessness, job stability, sobriety, abuse, and trauma. Become a part of the solution! Pray, Give, Serve. Agape House of Prescott serving families through hope, love, & housing.