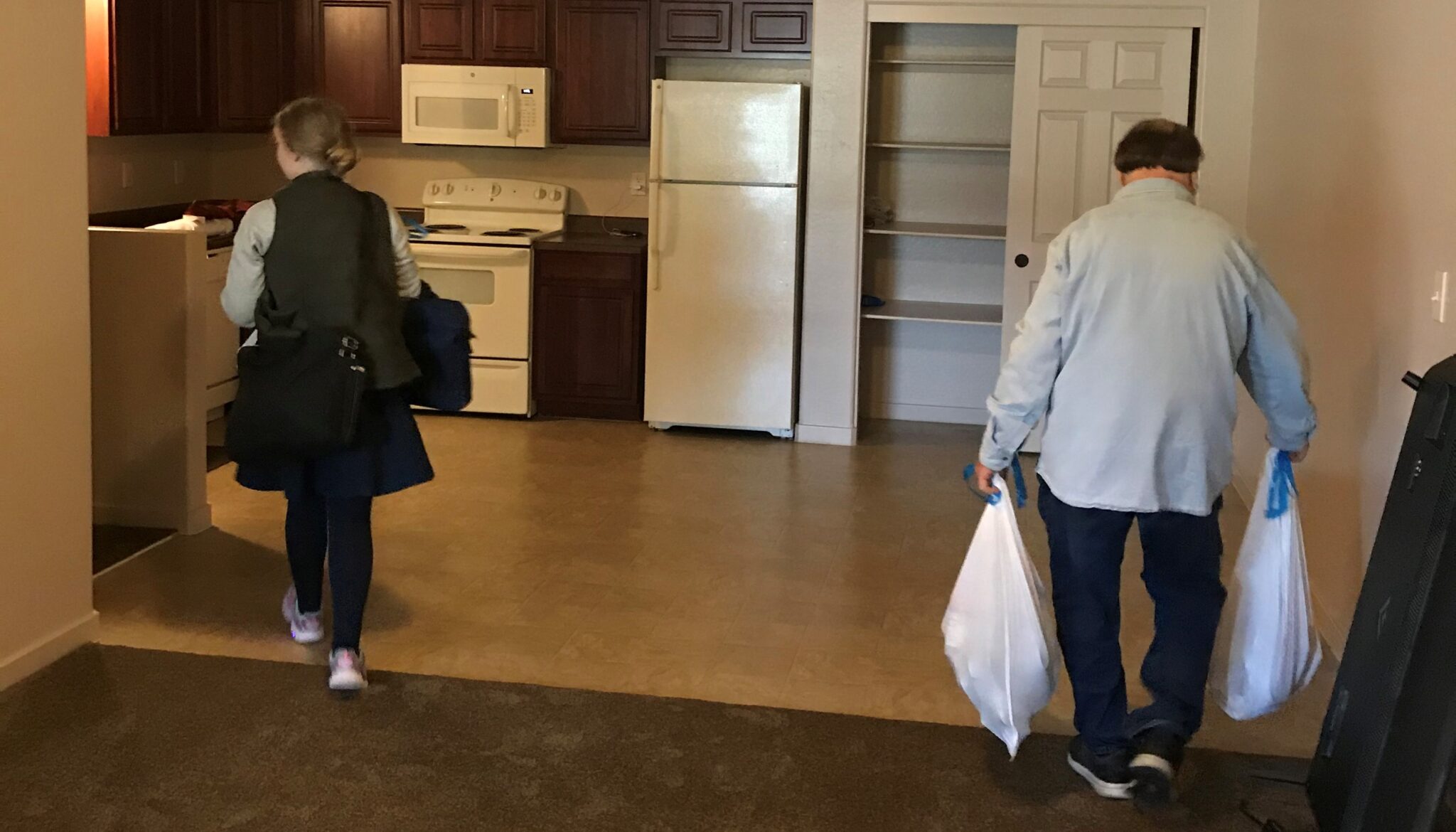 Incredible Journey
I am asking you to put on a different pair of shoes while you read this heartwarming story. I would like you to feel what it is like to live on the street, where riding on an air-conditioned bus to stay cool is your only option. Worrying about how to keep your daughter safe is your priority. Then feel the emotion when someone tells you there is hope at the Agape House.  A team of people who truly cares steps up and offers to help. You move into a program where you can receive housing, mentoring, support, and the love of Christ. Feel the joy of working hard at saving, focusing, following directions, and eventually moving into a place of your own. Agape House of Prescott is about transforming families towards self-sufficiency and freedom. Please read below the journey of a homeless single father and daughter, who were out of options, became empowered, won the battle, and recently moved into a place of their own.
Over the past 14 months, we have witnessed God's mighty hand in the lives of David and Katie.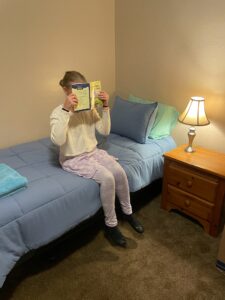 The family had been renting the same Prescott Valley home for over 10 years when their rent nearly doubled. They financially were out of options; they stayed with family and friends, but in the end, found themselves sleeping on a mat in a park in Phoenix, and riding the bus during the day to keep cool.
When David and Katie came to our program, they were hurting and lost. Grateful isn't a strong enough word to describe the dad's response to the housing provided by Agape House.
The family didn't only get a home; the family was empowered.
David took advantage of financial classes throughout the Agape House program to learn about budgeting, saving, and wise spending. The father saved up enough money to cover his expenses while they lived at Agape House (lovingly referred to as Agapeville). As they progressed through the Pathway to Independence and prepared for their new home and life, they saved money for the new, large, two-bedroom apartment that they now call home.
Empowerment from Agape House
During the 14 months, God's hand was present during the entire journey.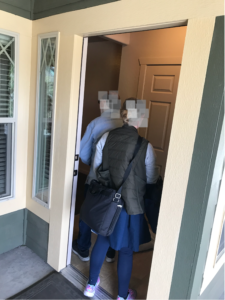 The day before "move in day" to Agapeville, the Agape House staff stood in an empty, remodeled, freshly painted apartment… but it was empty! The team prayed, posted requests for donations on Facebook, and prayed some more for God's provisions. The Facebook post at 6:51 a.m. requested 2 dressers, a bookshelf, pot and pans set, and a stove. Within 8 hours, we were offered 5 pot and pan sets, 6 dressers, a bookshelf, stove and 4 end tables, new towels, and many other things. Ephesians 3:20 happened before our very eyes… "He is able to do more than we ask or imagine." The empty apartment was ready to become a home!
The father and daughter kept repeating 'Thank You' and 'Praise the Lord' when they walked in. It was a very special moment to watch God's hand at work.
God's provision didn't stop on move-in-day.  David's car died shortly after coming to the Agape House, leaving the two to walk everywhere or pay for expensive taxi's.  God again provided, and one of our supporters donated a vehicle to them. The Agape House staff assisted in the process of securing a scholarship for his daughter to receive tutoring for GED prep. The daughter, Katie, was a massive help at Agapeville, working with the children while their parents took classes.
COVID has changed the way businesses operate, and the restrictions and changes are even more challenging when you are homeless. Options and services were available, but this family could not file the paperwork because the DES offices were closed. With medical offices also closed, they were unable to get the proper medical diagnosis. They had difficulty getting the legal paperwork completed because, again, the offices were closed.  With the help of Agape House team and mentors, the father and daughter overcame obstacles such as health challenges, DES paperwork, and legal paperwork. The family was persistent and patient and eventually found stability.
No Longer Homeless
The family has received stability and independence with their 'own' two-bedroom apartment located not far from downtown Prescott. The father would accredit his success to prayer and faithfulness to God.
Thank you to Agape House supporters and to God for making this transformation possible.