Undeniably, support from others is one of the number one keys to success. Support groups bring together people who are going through or have gone through similar experiences.
A support group provides an opportunity for people to share personal experiences and feelings, coping strategies, or firsthand information about diseases or treatments. Dr. David Susman, a clinical psychologist and mental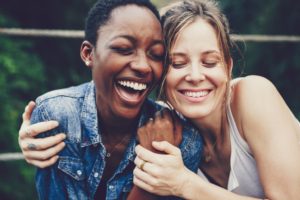 health advocate, believes that some of the benefits of a support group are:
Realizing you are not alone
Gaining hope
Increased self-understanding
Helping others
These successes ring true at Agape House of Prescott.
In a recent support group at Agape House, two of the recent Agape House graduates attended and shared their experiences and mentored a new resident. Everyone who attended received abundant blessings and support, leaving the meeting encouraged and empowered.
The graduates were pouring hope and encouragement into the new resident. 86% of the families who have journeyed through the Agape House program continue to live successful independent lives. This success is a direct result of support groups, encouragement, and God's abundant grace.
Support Group Report
Below is an insightful report from the Agape House Discipleship Director on the fruit that was born out of the support group meeting:
As we gathered last week, I was blessed to hear the hearts of two of our recent graduates and one new resident. The group talked about making your dreams come true and personal wellness.  The gift of encouragement traveled both ways during the meeting. Our graduate moms supported our new mom in numerous ways, and at the same time, encouraged themselves. They continued to share how hard it was at the beginning of the program. Still, they shared that "Agape House will care and will walk with you every step of the way, but you have to be willing to do the hard work."
One mom said her dreams have come true. She now has a "forever home, healthy kids, savings, many bills paid in advance, and family relationships have been restored."
Another mom's dream is to have a stable career that will allow her to help people after she graduates from college. She hopes to raise her kids with God and being able to foster kids in the future. She is well on her way to accomplishing these dreams, one step at a time.
Individuals are often caught in fear and hear messages of failure and messages of not being good enough. Being overwhelmed with anxiety and stress is debilitating. The girls shared ways they combat negative feelings. They use prayer, breathing, taking a walk in nature, remembering Truths from God's Word, and writing in a gratitude journal. We have so much to learn from one another!
"We have so much to learn from one another!"
We are excited to see one of our graduate moms become a friend/mentor to a new resident mom. It is so valuable to have someone who has gone through the program to encourage, support, and walk with a new resident.  They are both young mothers, each have faced homelessness, and each is overcoming many obstacles. We genuinely believe this will be a friendship that will last a lifetime.
The Agape House of Prescott uses the Pathway to Independence to transform the lives of families in crisis. The journey along the path takes hard work and requires support, encouragement, education, and love. Agape House is growing and spreading hope into more and more lives each day. The team appreciates your prayers and support so that the rebuilding of lives can continue. Click here for information on how you can help transform and rebuild lives in Prescott.