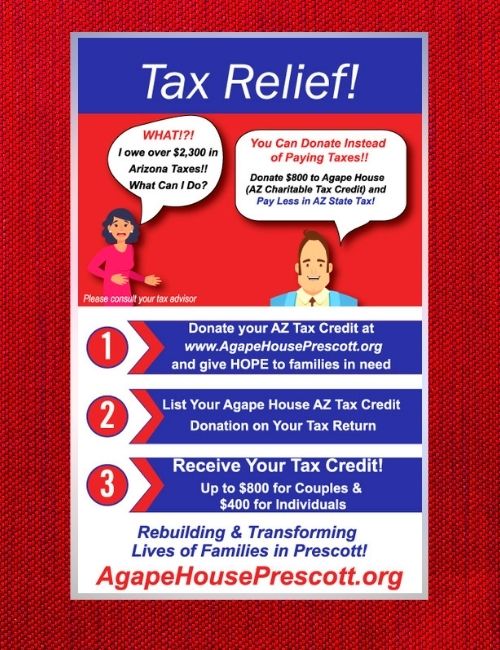 ARIZONA CHARITABLE DONATIONS CAN BE MADE UP TO TAX FILING DAY AND WILL STILL APPLY THE CREDIT FOR 2020!
As an Arizona Qualified Charitable Organization, you can direct tax dollars to Agape House instead of sending your taxes to the government! Learn more about redirecting your tax dollars here
https://bit.ly/AZ_TaxCredit
or call (928) 910-1089
What You Need To Know About AZ Charitable Tax Credit
Tax Credits generally save you more money than deductions.
Tax Deductions only reduce the amount of your income that is subject to tax, whereas credits directly reduce your tax bill.
Claim Up to $800 filing married, or Up to $400 filing single!
A tax credit is a dollar-for-dollar reduction of the income tax you owe. For example, if you owe $1,000 in Arizona taxes but are eligible for an $800 tax credit, your net liability drops to $200.
Put your tax credit giving on autopilot by setting up your monthly donation for 2021!
Arizona Charitable Tax Credit keeps your tax dollars in our local area, supporting the
Agape House of Prescott mission to transform the lives of the families we serve! The Arizona Charitable Tax Credit Changes Lives! Please consult your tax adviser for further information.