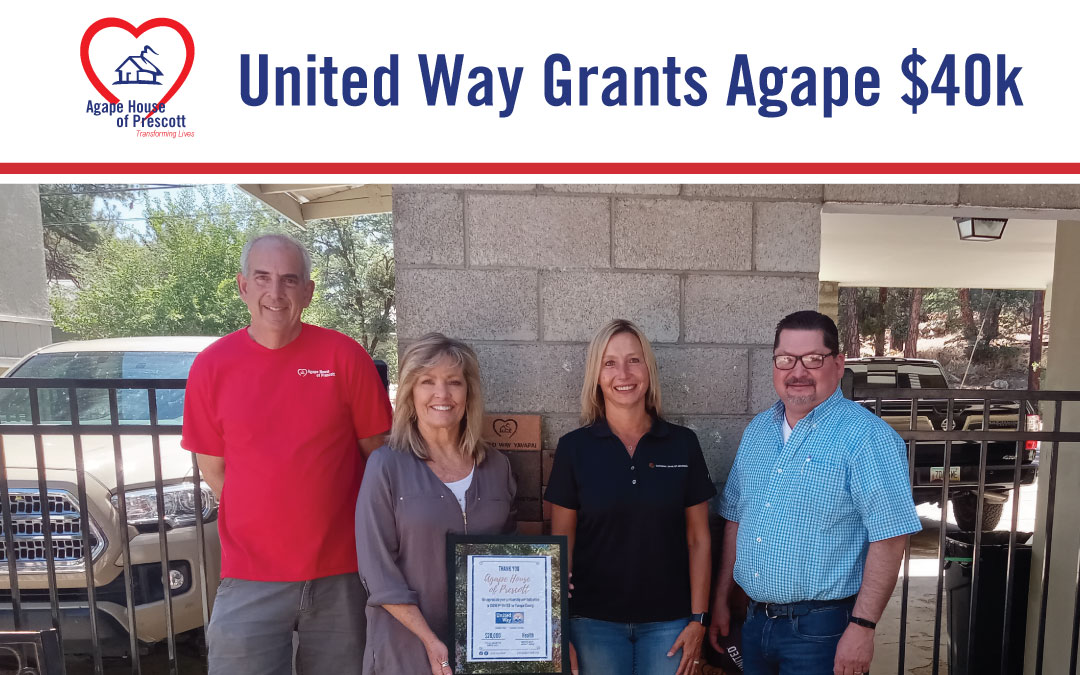 Agape House is humbled by the support and generosity of the United Way.
United Way has been very kind to the Agape House of Prescott over the years. The nonprofit organization awarded $20,000 for the program year 2021- 2022 to help operate the nine-unit apartment complex. Recently, they awarded $40,000 for the program year 2022-2023 to help Agape House serve up to 16 families each year.
$40,000 Grant Received
United Way Yavapai County's (UWYC) annual Community Impact grant cycle is the organization's strongest method for supporting and strengthening Yavapai County. The generous donations UWYC receives from individuals and businesses throughout the county make this grant cycle possible. Each qualifying agency must: currently hold status as a 501c3 or school, reside and offer their services within Yavapai County, and their program must focus on Health, Education, or Financial Stability. Together we are Standing United and producing Results You Can See for Yavapai County!
The support of the United Way leaders and National Bank staff will help the Agape House mission to transform and rebuild lives in countless ways.
Source: https://www.yavapaiuw.org/partner-agencies/
What is the United Way?
United Way is a nonprofit organization that helps people in need by providing financial assistance and other resources. The organization offers a variety of programs and services that aim to improve the lives of individuals and families in communities across the United States.
Some ways United Way helps people include providing food and shelter, helping with job training and placement, and offering financial assistance for rent, utilities, and other basic needs. United Way also provides programs for children and families, such as after-school tutoring and mentoring, summer camp opportunities, and early childhood education initiatives. Additionally, United Way works to improve the health and well-being of individuals and communities by supporting access to quality healthcare, promoting healthy lifestyles, and working to prevent and reduce chronic diseases.
United Way strives to create lasting positive change in communities across the country through its programs and services.