United Way of Yavapai County has selected Agape House of Prescott as their Featured Non-Profit!  This is a special honor for Agape House!
"United Way of Yavapai County is proud to support Agape House and its impressively successful program to help end homelessness within Yavapai County."
---
What is United Way?
For more than 125 years, United Way has evolved to meet the needs of the times. Today, the world needs United Way more than ever.
United Way is engaged in nearly 1,800 communities across more than 40 countries and territories worldwide. They focus on creating community-based and community-led solutions that strengthen the cornerstones for a good quality of life: education, financial stability, and health.
United Way envisions a world where every community is a strong one, with jobs that pay a livable wage, good schools, and a healthy environment. Around the world, United Way engages people and organizations in innovative solutions that transform that vision into reality.
Why Agape House?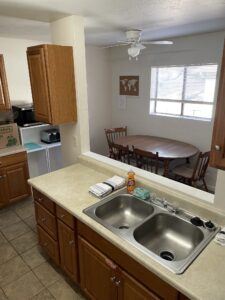 Agape House of Prescott, which just celebrated its 9th anniversary, is the only transitional housing program in Prescott which is "family-inclusive," meaning that it doesn't require parents to separate from their children in a time of crisis based on age or gender.
The group provides long-term transitional housing for families who do not have a home. It goes beyond providing emergency shelter; it's a long-term program that works to rebuild and transform families' lives and prepare them for an independent and self-sustained future.
The face of the homeless may not be who you think. Many are students going to school. Many have jobs and are the people you see working in restaurants, stores and construction sites. Many even have families. What they don't have is a place to live.
Agape House uses a four-step program that starts with a 30-day stabilization period to help families get out of crisis mode. It then works to rebuild lives by addressing the root causes of the individual's or family's homelessness, building practical skills such as setting up and staying within a budget, and ultimately re-integrating back into society with the help of churches or support groups.
Initially, Agape House rented out apartments to provide shelter, but recently the group was able to purchase a 9-unit apartment complex near downtown Prescott. The apartments provide a secure place to call home, but almost as importantly, they offer a built-in community of support. Families help families, mentors have a place to meet with participants and kids have a place to stay and just be kids. In fact, for many of these children, Agapeville (as it's informally known) is the first home they've ever had.
It's a program that is working and transforming lives. The group reports that 86% of its families are still living independently one year after leaving the program.
Thank You United Way!